Tiger Woods Leaning Farther into Foley's Corner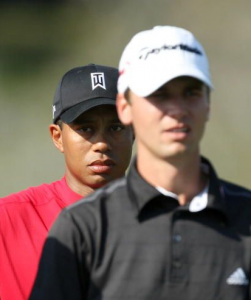 So it looks like Sean Foley has more than peaked Tiger Woods' interest as the caretaker of the world's most scrutinized golf swing. In Bill Pennington's New York Times story from the Barclays, all indications point to heavier involvement with Foley, which I believe will prove to be the difference Tiger is looking for.
Look for Foley's work with Woods to be rooted in concepts that create more simplicity and repeatability. The first glimpse of change occurred at Whistling Straits where we saw caddie Steve Williams often holding a shaft to the right of Woods' head. Foley is a firm believer that there is no need for lateral movement in the golf swing and the fact that Tiger has a propensity to move off the ball, is one of the factors that leads to inconsistency in the bottom of his swing arc.
The second change which will become evident is getting the arms and body to work more together to again create a tighter looking, more simplified effort. Look for drills where Tiger is hitting shots with a glove under his right or left arm as a means of creating a more snug connection between his arms and body. He'll also likely return to a swing length which is more compact, reminiscent of his action during his earlier days on Tour.
Finally, don't be surprised if you see Tiger strengthen his left hand grip as well. In a conversation I had with Foley a few months ago, he made mention that he felt Tiger's grip had weakened considerably over the years and believed this adjustment would be necessary in getting Woods back to his old form.
From my perspective, I think Foley is dead on and has the remedy that Tiger needs to once again slay the field with ease. Whatever your perspective is on Woods, the Tour is certainly less exciting when he's not at the top. Look for a more confident Tiger, more lasers down the middle and a heck of a lot more fist pumps!
Tags:
bill pennington
,
jeff ritter
,
sean foley
,
the a position
,
tiger woods
,
tiger woods and sean foley
,
tiger woods swing change
,
tiger's new coach