Delicious & Nutritious Meal Ideas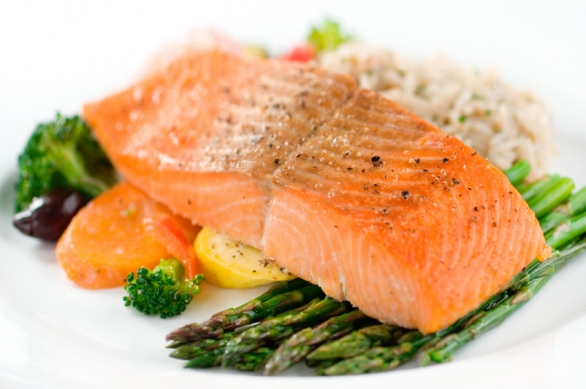 Eating more balanced meals and snacks that include a variety of healthy ingredients is a great way to lose weight, increase energy, support overall health and reduce your risk of illness. Start by covering 1/4 of your plate with a high quality source of muscle-building protein. Next, add nutrient-dense non-starchy veggies to cover at least 1/2 of your plate. Add starchy veggies, gluten-free grains and/or fruit to fill the rest of your plate. Include some natural fats to cook with or add as a topping. Try these simple meal ideas below for creating a more balanced plate that is sure to satisfy your senses!
Breakfast
Fried eggs + bacon + sweet potato + kale
Wild salmon + poached eggs + asparagus
Mini turkey burgers + brussels sprouts + sweet potato
Chocolate protein shake + greens + almond butter
Hard-cooked eggs + avocado + cherry tomatoes
Strawberry protein shake + greens + banana
Sweet potato crusted quiche + roasted cauliflower
Bison meatballs + red bell pepper + orange
Nitrate-free sausage + raw milk cheese + apple
Wild salmon + banana, blueberry & pecan quinoa
Snacks
Almond butter + celery/apple/banana
Raw veggies + hummus/guacamole or Zukay + olive oil
Roasted walnuts + coconut flakes + cinnamon
Sliced grapefruit + avocado
Blueberry kale coconut protein shake
Bison jerky + orange + cashews
Raw milk cheese + pear + pecans
Greek yogurt + mixed berries + cinnamon
Lunch
Cold shrimp + cucumber + cherry tomatoes
Chicken kabob + raw milk cheese + apple
Tuna stuffed tomatoes + parsley + capers + parmesan
Pork meatballs + sweet potato + spinach + pecans
Wild salmon salad + strawberries + cucumber + walnuts
Greek chicken salad + olives + cucumber + tomatoes + hummus
Cabbage/lettuce wrapped beef/bison burgers + mustard + tomatoes
"Sprouted" Cinnamon Raisin Bread + turkey + goat cheese
Dinner
Sweets
Strawberry ice cream, chocolate-covered strawberries or blueberries, chocolate chip cookies, chocolate mousse, roasted peaches & date whipped cream
Click here to learn how CNK can help YOU?
Make The Turn Nutrition is facilitated by CNK.
Tags:
cate ritter
,
golf nutrition
,
healthy recipes
,
make the turn
,
scottsdale nutritionist
,
weight loss