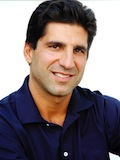 World-renowned Golf Instructor Roberto Borgatti returns for his fifth season at the Longboat Key Club & Resort. Roberto conducts golf clinics for all levels of players, and seminars for teaching professionals around the world. Roberto's comprehensive approach combines a clear methodology, golf fitness & performance training and state-of-the-art V1 Professional video swing-analysis.
Roberto is the author of A Swing You Can Trust, "a golfing bible", says former British Open Champion and CBS Golf Commentator Ian Baker Finch. Personally signed copies of his golf instructional book are available at our golf shops.
Roberto's instructional technique will be showcased this year as a VOOK (VideoBook) a pioneering media format blending writing and video. It will also be a featured Iphone App and DVD, filmed exclusively at the Longboat Key Club, & Resort.
Roberto has coached top players from the United States, Korea, Sweden, Australia, China, Germany, France and the United Kingdom. They include Belen Mozo Palacios, a British Amateur Champion/four-time All American, Davyn Nola, a six-time World Long Drive finalist, and Arlene McKitrick, the world's winningest amateur with 160 tournament victories worldwide.
Roberto conducts golf clinics in Europe and Asia, including the PGA National of Sweden, the Royal Club of Seville Spain and Turnberry in Scottland. He is also the #1 Rated golf instructor on Crystal Luxury Cruises, leading players to the most exotic destinations including Istanbul, Estonia and Monaco to the most prestigious golf Mecca of Scottland, Ireland and England. His instructional methods have been featured in Golf Digest's Golf for Women and Europe's Canal Plus Television.
A teacher's teacher, Roberto speaks five languages, and holds a master's degree in International Management.