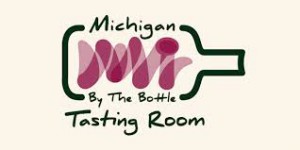 Professional networking and alcohol. Anyone who's been to a professional conference or event reception knows the two are powerful companions. Few things bring people together like a few sips of their favorite adult beverages. People relax, chat it up, share some laughs and inevitably 'talk business' because that's the leveler – the safe ground – and the place where otherwise strangers know they share a common thread.
Michigan By The Bottle puts a new spin on business networking. Pairing Michigan's prowess as a quality wine-producing state, Michigan By The Bottle effectively combines the civility of a wine-tasting with business networking to yield fun results.
With two locations, on Woodward Avenue in Royal Oak and Hayes Road in Shelby Township, Michigan By The Bottle is a contemporary wine bar that exclusively stocks and serves Michigan wines produced by its partner wineries: 2 Lads Winery, Chateau Aeronautique, Chateau de Leelanau, Domaine Berrien Cellars, Gill's Pier Vineyard & Winery, Peninsula Cellars, Sandhill Crane Vineyards and Verterra Winery, all which use their estate-grown and/or locally sourced grapes.
At the networking event I attended in Royal Oak, each of us was given six wooden tokens – five for 2 oz. pours from any of the wines on the full wine menu and one redeemable for $10 off the price of one bottle of wine to take away.
Going solo to the event, I had that usual bit of apprehension, worried if the cheese and veggie trays would be my best friends for the whole evening. When I arrived, after twice passing the venue which is tucked into a strip development, I was unintentionally 30 minutes 'fashionably' late. The wine tasting was in full swing and people were chatting it up. Within minutes I was one of them.
The cool thing was the wine tasting. Everyone was choosing their pours, talking about their favorite tastes, comparing notes on each, and chatting about business and life. Pour. Taste. Talk. A repetitive cycle that engaged everyone. No icebreakers or introductions needed.
Being a fan of the reds, I stuck to those and ended up purchasing my favorite that evening, a Pinot Noir by Domaine Berrien Cellars.
In addition to being 'for hire' for private parties and events, Michigan By The Bottle offers its own events to the public, including monthly Book & Bottle Clubs, Tasting & Tunes – live music nights, Serenity & Sips – yoga and wine, a members Sipper Club, winemaker's dinners and more.
Anyone can stop in most days of the week and 'choose their own adventure,' enjoying Full Flights with five 2 oz. pours, plus Flight Bites (small plates of Michigan cheese and chocolate) or Mini Flights that come with three 2 oz. pours. There are Tour options that roll in dessert pours and extra snacks, or you can order from the snack menu and create your own flights or "fly blind" and let staff make the selections.
Michigan By The Bottle is open from noon to 9 p.m. Wednesday and Thursday, noon to 10 p.m. Friday and Saturday, and noon to 6 p.m. Sunday, with Mondays and Tuesdays reserved for private events.
For more information, visit mbtbtasting.com or MichiganByTheBottle.com