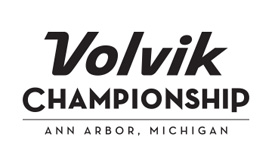 The stage is set for the first LPGA Volvik Championship at Travis Pointe Country Club in Ann Arbor, May 23-29.
Based on the LPGA Final Priority Field List, released May 19,  nine of the top ten and 23 of the top 30 money winners on the LPGA tour will be among the 144 golfers in the field who will play in the inaugural event.
"We're very excited about the field that will be joining us at the inaugural Volvik Championship," said LPGA Commissioner Michael Whan. "This field showcases some of the best athletes and role models our sport has to offer, and we're looking forward to a great week in Ann Arbor."
Lydia Ko, Michele Wie, Lexi Thompson, Paula Creamer, Inbee Park, Christie Kerr and Brittany Lincicome are among the tour professionals who will make their first visit to Travis Pointe. Ha Na Jang, winner of two LPGA events this season, is the lone player in the LPGA Top Ten money list who will not play.
"When I saw the list players we will have for our inaugural tournament, I was thrilled," said LPGA Volvik Championship Tournament Director Keith Karbo. "Now, Ann Arbor is set to have a world class event with world class golfers."
The LPGA Volvik Championship tournament week starts Monday, May 23 with Tour practice at Travis Pointe Country Club and the LPGA Qualifier at Eagle Crest Golf Club in Ypsilanti (Two players from the qualifier will be added to the tournament field.)
Local golfer Sarah Hoffman, from Saline, Michigan,  and 15-year-old Korean amateur champion Ayean Cho will fill the exemption spots.
Practice continues on Tuesday, May 24 with the Pro-Am played on Wednesday, May 25. The 72-hole LPGA Volvik Championship tournament competition starts Thursday, May 26 and runs through Sunday, May 29.
All active and retired military veterans will receive complimentary tickets for themselves and a friend along with complimentary admission to the DTE Energy sponsored Military Chalet on the ninth hole. DTE is the Military Appreciation Sponsor and will underwrite the cost of free admission for U.S. military veterans and active duty personnel during the event.
For more information, visit  http://volviklpga.com/
FINAL Priority Field List
2016 LPGA Volvik Championship
1 Lydia Ko (1) Top 80 – 2015 Money List 1
2 Inbee Park (1) Top 80 – 2015 Money List 2
3 Sei Young Kim (1) Top 80 – 2015 Money List 4
4 Lexi Thompson (1) Top 80 – 2015 Money List 5
5 Amy Yang (1) Top 80 – 2015 Money List 6
6 Cristie Kerr (1) Top 80 – 2015 Money List 7
7 So Yeon Ryu (1) Top 80 – 2015 Money List 8
8 Shanshan Feng (1) Top 80 – 2015 Money List 9
9 Brittany Lincicome (1) Top 80 – 2015 Money List 12
10 Hyo Joo Kim (1) Top 80 – 2015 Money List 13
11 Suzann Pettersen (1) Top 80 – 2015 Money List 14
12 Minjee Lee (1) Top 80 – 2015 Money List 16
13 Mirim Lee (1) Top 80 – 2015 Money List 19
14 Chella Choi (1) Top 80 – 2015 Money List 20
15 Yani Tseng (1) Top 80 – 2015 Money List 21
16 Mi Hyang Lee (1) Top 80 – 2015 Money List 22
17 Ilhee Lee (1) Top 80 – 2015 Money List 24
18 Jessica Korda (1) Top 80 – 2015 Money List 27
19 Candie Kung (1) Top 80 – 2015 Money List 29
20 Azahara Munoz (1) Top 80 – 2015 Money List 32
21 Austin Ernst (1) Top 80 – 2015 Money List 33
22 Angela Stanford (1) Top 80 – 2015 Money List 34
23 Ariya Jutanugarn (1) Top 80 – 2015 Money List 35
24 Eun-Hee Ji (1) Top 80 – 2015 Money List 36
25 Karine Icher (1) Top 80 – 2015 Money List 37
26 Pornanong Phatlum (1) Top 80 – 2015 Money List 38
27 Xi Yu Lin (1) Top 80 – 2015 Money List 39
28 Pernilla Lindberg (1) Top 80 – 2015 Money List 40
29 Kris Tamulis (1) Top 80 – 2015 Money List 41
30 Sakura Yokomine (1) Top 80 – 2015 Money List 44
31 Kim Kaufman (1) Top 80 – 2015 Money List 45
32 Lee-Anne Pace (1) Top 80 – 2015 Money List 46
33 Paula Creamer (1) Top 80 – 2015 Money List 48
34 Charley Hull (1) Top 80 – 2015 Money List 49
35 Michelle Wie (1) Top 80 – 2015 Money List 50
36 Jane Park (1) Top 80 – 2015 Money List 51
37 Sun Young Yoo (1) Top 80 – 2015 Money List 54
38 Mariajo Uribe (1) Top 80 – 2015 Money List 57
39 Jaye Marie Green (1) Top 80 – 2015 Money List 59
40 Sydnee Michaels (1) Top 80 – 2015 Money List 60
41 Wei-Ling Hsu (1) Top 80 – 2015 Money List 61
42 Caroline Masson (1) Top 80 – 2015 Money List 63
43 Catriona Matthew (1) Top 80 – 2015 Money List 65
44 Moriya Jutanugarn (1) Top 80 – 2015 Money List 66
45 Alena Sharp (1) Top 80 – 2015 Money List 67
46 Haru Nomura (1) Top 80 – 2015 Money List 68
47 Jennifer Song (1) Top 80 – 2015 Money List 69
48 Min Lee (1) Top 80 – 2015 Money List 70
49 Christina Kim (1) Top 80 – 2015 Money List 71
50 Ryann O'Toole (1) Top 80 – 2015 Money List 72
51 Marina Alex (1) Top 80 – 2015 Money List 73
52 Mi Jung Hur (1) Top 80 – 2015 Money List 74
53 Kelly Shon (1) Top 80 – 2015 Money List 76
54 Beatriz Recari (1) Top 80 – 2015 Money List 77
55 Min Seo Kwak (1) Top 80 – 2015 Money List 78
56 Ai Miyazato (1) Top 80 – 2015 Money List 79
57 Christel Boeljon (1) Top 80 – 2015 Money List 80
58 Ayako Uehara (1) Top 80 – 2015 Money List 81
59 Se Ri Pak (2) Career Top 20 83
60 In Gee Chun (7) Non-Member Win 84
61 Brooke M. Henderson (7) Non-Member Win 85
62 Katie Burnett (8) CURRENT YEAR TOP 80 86
63 Megan Khang (8) CURRENT YEAR TOP 80 88
64 Paula Reto (8) CURRENT YEAR TOP 80 89
65 Jodi Ewart Shadoff (8) CURRENT YEAR TOP 80 90
66 Julie Yang (8) CURRENT YEAR TOP 80 92
67 Gaby Lopez (8) CURRENT YEAR TOP 80 93
68 Simin Feng (8) CURRENT YEAR TOP 80 94
69 P.K. Kongkraphan (8) CURRENT YEAR TOP 80 95
70 Nontaya Srisawang (8) CURRENT YEAR TOP 80 96
71 Thidapa Suwannapura (8) CURRENT YEAR TOP 80 98
72 Annie Park (9) Top 10 LPGA Symetra Tour 99
73 Giulia Molinaro (9) Top 10 LPGA Symetra Tour 100
74 Brianna Do (9) Top 10 LPGA Symetra Tour 101
75 Daniela Iacobelli (9) Top 10 LPGA Symetra Tour 102
76 Dani Holmqvist (9) Top 10 LPGA Symetra Tour 103
77 Lee Lopez (9) Top 10 LPGA Symetra Tour 104
78 Alejandra Llaneza (9) Top 10 LPGA Symetra Tour 105
79 Vicky Hurst (9) Top 10 LPGA Symetra Tour 106
80 Casey Grice (9) Top 10 LPGA Symetra Tour 107
81 Rachel Rohanna (9) Top 10 LPGA Symetra Tour 108
82 Amy Anderson (11) Nos. 81-100 109
83 Alison Walshe (11) Nos. 81-100 111
84 Tiffany Joh (11) Nos. 81-100 112
85 Perrine Delacour (11) Nos. 81-100 113
86 Meena Lee (11) Nos. 81-100 114
87 Caroline Hedwall (11) Nos. 81-100 115
88 Jennifer Johnson (11) Nos. 81-100 116
89 Sarah Jane Smith (11) Nos. 81-100 117
90 Sarah Kemp (11) Nos. 81-100 118
91 Sadena Parks (11) Nos. 81-100 121
92 Grace Na (12) Top 20 Q-School 122
93 Budsabakorn Sukapan (12) Top 20 Q-School 123
94 Cyna Marie Rodriguez (12) Top 20 Q-School 124
95 Maude-Aimee Leblanc (12) Top 20 Q-School 125
96 Cydney Clanton (12) Top 20 Q-School 126
97 Ashlan Ramsey (12) Top 20 Q-School 127
98 Laetitia Beck (12) Top 20 Q-School 128
99 Cheyenne Woods (12) Top 20 Q-School 129
100 Sandra Changkija (12) Top 20 Q-School 130
101 Bertine Strauss (12) Top 20 Q-School 132
102 Lindy Duncan (12) Top 20 Q-School 133
103 Pannarat Thanapolboonyaras (12) Top 20 Q-School 134
104 Benyapa Niphatsophon (12) Top 20 Q-School 135
105 Jing Yan (12) Top 20 Q-School 136
106 Su Oh (15) Current- Year Reshuffle 137
107 Marion Ricordeau (15) Current- Year Reshuffle 138
108 Giulia Sergas (15) Current- Year Reshuffle 139
109 Stephanie Kono (15) Current- Year Reshuffle 140
110 Brittany Altomare (15) Current- Year Reshuffle 141
111 SooBin Kim (15) Current- Year Reshuffle 142
112 Katherine Kirk (15) Current- Year Reshuffle 143
113 Amelia Lewis (15) Current- Year Reshuffle 144
114 Becky Morgan (15) Current- Year Reshuffle 145
115 Nannette Hill (15) Current- Year Reshuffle 146
116 Felicity Johnson (15) Current- Year Reshuffle 147
117 Christine Song (15) Current- Year Reshuffle 148
118 Celine Herbin (15) Current- Year Reshuffle 149
119 Belen Mozo (15) Current- Year Reshuffle 150
120 Dori Carter (15) Current- Year Reshuffle 151
121 Briana Mao (15) Current- Year Reshuffle 152
122 Haeji Kang (15) Current- Year Reshuffle 153
123 Samantha Richdale (15) Current- Year Reshuffle 154
124 Demi Runas (15) Current- Year Reshuffle 155
125 Ji Young Oh (15) Current- Year Reshuffle 156
126 Laura Davies (15) Current- Year Reshuffle 157
127 Ssu-Chia Cheng (15) Current- Year Reshuffle 158
128 Jane Rah (16) Nos. 101-125 160
129 Dewi Claire Schreefel (16) Nos. 101-125 161
130 Ashleigh Simon (16) Nos. 101-125 163
131 Lisa Ferrero (16) Nos. 101-125 165
132 Victoria Elizabeth (17) Nos. 21-45 Q-School 168
133 Prima Thammaraks (17) Nos. 21-45 Q-School 169
134 Jiayi Zhou (17) Nos. 21-45 Q-School 170
135 Sherman Santiwiwatthanaphong (17) Nos. 21-45 Q-School 171
136 Heather Bowie Young (17) Nos. 21-45 Q-School 172
137 Karlin Beck (17) Nos. 21-45 Q-School 175
HELD SPOTS:
LPGA Top-10 Kingsmill (2)
LPGA Winner Kingsmill (1)
Sponsor invite (2): Sarah Hoffman, Ayean Cho
Qualifier (2)
ALTERNATES
138 Anne Catherine Tanguay 2016 Tournament Alternates (manual) 1
139 Nicole Jeray 2016 Tournament Alternates (manual) 2
140 Caroline Westrup 2016 Tournament Alternates (manual) 3
141 Jaclyn Jansen 2016 Tournament Alternates (manual) 4
142 Ginger Howard 2016 Tournament Alternates (manual) 5
143 Hannah Collier 2016 Tournament Alternates (manual) 6
144 Paz Echeverria 2016 Tournament Alternates (manual) 7
145 Lorie Kane 2016 Tournament Alternates (manual) 8
146 Silvia Cavalleri 2016 Tournament Alternates (manual) 9
147 Amy Hung 2016 Tournament Alternates (manual) 10
148 Danah Bordner 2016 Tournament Alternates (manual) 11
149 Stephanie Meadow 2016 Tournament Alternates (manual) 12
150 Elizabeth Nagel 2016 Tournament Alternates (manual) 13
151 Sue Kim 2016 Tournament Alternates (manual) 14
152 Kristy McPherson 2016 Tournament Alternates (manual) 15
153 Kendall Dye 2016 Tournament Alternates (manual) 16
154 Beth Bader 2016 Tournament Alternates (manual) 17
155 Jean Bartholomew 2016 Tournament Alternates (manual) 18
156 Ashli Bunch 2016 Tournament Alternates (manual) 19
157 Mindy Kim 2016 Tournament Alternates (manual) 20
158 Cindy LaCrosse 2016 Tournament Alternates (manual) 21
159 Candy Hannemann 2016 Tournament Alternates (manual) 22
160 Megan Grehan 2016 Tournament Alternates (manual) 23
161 Sara Banke 2016 Tournament Alternates (manual) 24
Bruce Madej
Media/ PR/ Crisis Management Consultant | Writer
48055 Bayshore Dr, | Belleville, MI 48111
https://www.linkedin.com/in/brucemadej
Twitter: @BrMadej | Cell Phone: 734.323.2283