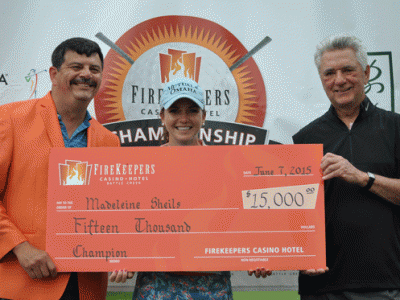 Defending Champion Maddie Sheils receives her first place winnings at last year's FireKeepers Casino Hotel Championship.
Michigan has been enjoying a beautiful summer, with balmy days and many cool nights. That is until this week, when the mercury will be dancing in the 90s, perhaps fittingly, for the Third Annual FireKeepers Casino Hotel Championship July 22-24 at Battle Creek Country Club in Battle Creek.
While the high temps may keep big galleries from planting themselves around sunbathed tees and greens, they will likely do little to deter the field of 156 Symetra Tour players who are here to compete for a $100,000 purse. These professional women golfers know that every great score is one step closer to their dream of earning one of 10 LPGA slots at season's end, as well as the Potawatomi Cup and substantial cash in their pockets.
FireKeepers Casino Hotel, owned and operated by the Nottawaseppi Huron Band of the Potawatomi, presents the event in partnership with the 2016 Symetra Tour – Road to the LPGA. The tournament offers a top prize of $15,000, plus points in the chase for the Potawatomi Cup and a bonus prize pool of $40,000.
New this year, the Symetra Tour and Evian Championship also will send the FireKeepers' winner and runner-up to play in The Evian Championship, the fifth and final major on the LPGA schedule, in France. This is the first time players will earn spots in an LPGA major tournament based off a Symetra Tour event finish.
Defending FireKeepers champion Madeline Sheils is happy to be back. Last year, she birdied two of her final four holes and carded a 4-under 68 on the final day for a come-from-behind victory. A Boise, Idaho, native who played four years at the University of Nebraska, Sheils is in her fourth year on the Symetra Tour. Last year's Firekeepers Championship was her only 2015 Tour win and she finished 17th on the money list. "All in all a great year," she said.
Battle Creek Country Club is her kind of course. "I remember showing up on Tuesday afternoon (last year) to play a practice round with my caddie, and I think I played one hole and turned around and said, 'I absolutely love this place!' It reminds me so much of my home course in Boise," Sheils said. "I love the traditional tree-lined fairways, the bent grass, the thick rough. I'm a pretty straight hitter but not particularly long, so it suits me very well to play a course that rewards hitting a lot of fairways.
"As a way to build confidence, sometimes I just think of that back nine and the final nine holes of (last year's) tournament. I remember reaching the par 5, 15th hole in two. It happened to be downwind that day, and that was one of my 'shots of the year,' I think. That hole has very fond memories," she said.
Vice President of Hotel Operations and Tournament Director Kathy George said the FireKeepers team is excited about having the tournament back for its third year. "Our CEO Brian Decorah said this is his favorite week of the year," she said.
"We're very fortunate to love our jobs and we love to work here at FireKeepers everyday, but this week is just fun and different, and we love to bring tourists to the area," George said. "The whole event is just a great way to bring the community together.
"The community is very supportive of FireKeepers and the Nottawaseppi Huron Band of the Potawatomi and the tournament has even made it better," George added. "It has exposed more people to us. Some people aren't gamblers, but now they recognize we have concerts, we have banquet rooms for weddings, the restaurants, and do so much more. So it's opened their eyes as to what we have and what we give back to the community. The community is also supportive as volunteers and we have lots of sponsorships and people in the area coming out and buying pro-am teams to golf with the future stars of the LPGA, and it's not just companies, but people who want to be a part of it."
Net proceeds from the tournament benefit S.A.F.E Place Women's Shelter, dedicated to helping victims of domestic violence and their families in Michigan's Barry, Eaton and Calhoun counties.
For more information and this week's schedule of events, visit: http://www.firekeeperscasino.com/see/firekeepers-casino-hotel-championship/