While snow will soon be flying throughout Michigan and the Midwest United States, it's not too soon to add 2017 golf plans to this year's Santa Wish List.
One place worthy of making 'The List' is Black Lake Golf Club, near Cheboygan, Michigan.
Advertising itself as a 'hidden gem,' Black Lake Golf Club and the UAW Conference Center, on northern Michigan's sunrise side, are a real find for golfers, boaters and vacationers. As a matter of fact, it's such a great hideaway that back in the day, honeymooners like Lucille Ball and Desi Arnaz arrived and left virtually unnoticed.
Black Lake's 18-hole Golf Club, designed by Rees Jones, and its 9-hole Little Course have always been open to the public, but only in the last few years has the 1,020-acre Walter and May Reuther UAW Family Education Center  lodging and lakeside property welcomed non-affiliated visitors.  Considering that the nearest hotel is a few miles away, opening on-site lodging and camping to the public has made  the course 'destination-worthy' in a big way.
This 'house' that the UAW built is an amazing property. Retro in design, yet modern in conveniences and architecturally unique – it sits on the shores of beautiful Black Lake. The hotel and conference center, designed by Oscar Stonorov, are architectural masterpieces.
Nowhere will you see the use of natural wood in such abundance. Red cedar was used both inside and out. Doors and wood trim are made from birch, pecan wood paneling in the sleeping rooms.  Corridor railings are red birch and many handrails are teak.  Even the dining room ceiling lamps have translucent, thin wood circular shades.
Huge windows in the main lobby open the fieldstone and wood interiors to the beautiful and natural outdoors, blending inside and out masterfully, reminiscent of renowned architect Frank Lloyd Wright. The hotel can sleep 400; the expansive dining room can seat 300. Enclosed glass walkways connect building to building.
There's an Olympic-size pool with towering wood ceiling and expansive windows that look onto the forest. A full-size gym can double as an auditorium and seats 1,200.
Everything that looks like marble is granite. All bronze work was cast in Italy and designed by Vivalli. More than 15,000 tons of Crab Orchard stone came from Wisconsin and fireplace hearths are from Canada and French Creek, Pennsylvania.  The main lobby area of the lodge also hosts a fascinating collection of United Auto Workers history and memorabilia, mostly gathered on the second floor mezzanine. And in deference to the UAW, all non-union-made autos must be left outside the gate – making the free shuttle a must for those driving foreign made cars. Although a little off-putting to some, you have to respect the UAW for being true to its cause.
The property has 51 campsites, a sandy beach, softball field, bocce court, boat launch, apartment-style accommodations, hotel and lodge rooms. The original log-cabin lodge, built in 1932 by Detroit advertising executive Lou Maxon, also has rooms that can be reserved individually and spaces that can be rented by groups, including the full lodge, if available.
The décor is old school, but in an amazingly special way. Our two-bedroom apartment had spacious living and dining rooms, high ceilings and a full kitchen.  The countertops had speckled white formica surfaces, just like those in my mom's 1963 home, and the bathrooms had old-style tile surfaces and surrounds.  The bedrooms were fairly small but comfortable and cozy considering the expansive living spaces, and they were without TVs – yea!  The large flat screen in the living room was fine with us, and we loved the apartment's big, private balcony facing the forest.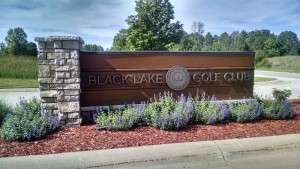 Now for the golf. Black Lake Golf Club is both challenging and playable.  Its wide, tree-lined fairways keep every hole solely in view. Carved through beautiful hardwood and evergreen forests, it is scenic and rolling. With five sets of tees, it plays from from 5,058 to 7,030 yards.
What's especially nice about the Rees Jones design is it makes fine use of the natural topography yet adds dramatic and exquisite bunkering throughout.
Signature hole #5, is a par 3 that plays 235 yards from the championship tee to 145 yards from the front. It has a long lobed bunker, shaped like an oak leaf on steroids, which runs the length of the hole on the right. This 'Sahara' bunker makes the hole amazingly intriguing and fun-to-play.
Other favorites are the 15th through finishing 18th holes.  The par 5, 15th, which plays 515 to 387 yards, depending on tee choice, brings some risk-reward into play with the lake on the left.  Playing it safe, requires a skilled second shot and ball placement between the lake and right framing  bunkers on the  dogleg approach to the green, but long hitters can go for the green in two, crossing the lake.
You're high and dry on the elevated tees of the par 4, 16th hole, but accuracy is required to make par on this dogleg right, guarded at the corner by a large tree. Bunkered on the left, with bailout relief on the right, the undulating green, like others, is framed by mature trees.
The par 4, 17th is bordered by the lake on the right for most of the fairway. Broad landing areas keep the lake mostly out of play and the right bunker at the green also can save an errant shot from rolling into the lake, but not without a next-shot challenge.
Finally, the 18th hole brings it home grandly with a slightly uphill, par 5 that plays 590 to 450 yards.  The green is deep and strongly guarded on the left by a sculptured bunker.
Patrons of the Black Lake Grille, which offers breakfast, lunch and a great dinner menu, can eat indoors or on the outside patio, watching groups play out the finishing hole.
Since opening in 2000, Black Lake Golf Club has received numerous recognitions. It was ranked 34th in Golf Digest's "100 Greatest Public Courses in America" in 2009-2010 and placed ninth in Best Value. The course also was named one of the Top 50 public golf courses for women by Golf for Women magazine in 2001 and hosted the Michigan Women's Amateur Championship in 2003.  More recently, it was ranked 69th among Golf Digest's "America's 100 Greatest Public Courses" (2013) and was ranked among the top 10 'Best Courses to Play in Michigan" in 2013 and 2014. It also is certified by Audubon International, Audubon Cooperative Sanctuary System and the Michigan State Turfgrass Environmental Stewardship Program.
In addition, the 773-yard Little Course at Black Lake is a fun, walking nine that offers excellent short game practice. While the tees are mats, the greens and the approaches are professionally maintained.  Grab a pitching wedge and/or nine iron and putter, a couple of balls, sunscreen or a little bug spray (depending on time of year) and you're good to go!
2016 Tour packages, featuring golf on both Black Lake courses, Michaywe Pines and Gaylord Country Club, with two nights lodging at the UAW Conference Center were $184 per person, based on double occupancy.
For 2017 information and reservations, call 989-733-7270 or visit www.golfblacklake.com