Looking back on 2012, here's an assortment of "bests" from travels near and far.
Best in-state golf experience: A threesome of golf cronies played Traverse City Golf & Country Club and we all loved it. Excellent playing conditions, a walkable and friendly design, and agreeable weather all added up to a memorable day.
Best out-of-state golf experience: It's hard to beat Naples, Florida, in the winter for exceptional golf. One of the premier clubs is Grey Oaks where I've had the privilege of playing in its Men's Invitational the last few years. Everything is expertly handled at Grey Oaks and the golf over its three distinct courses is top-notch. My sleeper course in Naples this past year was the rebranded Talis Park, a marvelous collaboration of Pete Dye and Greg Norman, formerly known as Tuscany Reserve.
Best hotel accommodations: Santa Barbara's Bacara Resort and Spa overlooking the Pacific Ocean is superb for service and spectacular views. As a bonus, it was terrific by-passing LAX and flying directly into Santa Barbara Airport, only minutes away from Bacara.
Best historic golf tidbit: In an interview with legendary designer Pete Dye, he observed: "When Ben Hogan won the '53 U.S. Open at Oakmont those greens rolled only at a six—if they had a stimpmeter."
Best unsung senior amateur event: Never having played in Battle Creek's 36-hole City Senior Championship, I was floored by the turnout of over a 100+ golfers of various handicaps and ages competing in a fun event. Hats off to PGA Pro Ron Osborne and company for all of their efforts.
Best grandchild club amenity: Easily goes to Mediterra in Naples. Besides two outstanding Fazio courses, Mediterra offers a member-only Beach Club with swimming pool overlooking the Gulf. When it comes to beach-happy grandchildren, Mediterra is one-up on the competition.
Best day watching golf: Watching Keegan Bradley and Phil Mickelson team up and win 4 & 3 in their Friday morning Ryder Cup match against Luke Donald and Sergio Garcia was as good as it gets. Stationing myself later at the drive-able 15th hole at Medinah, I patiently waited for the foursome and was richly rewarded with Bradley's clinching and ear-splitting putt for birdie.
Best golf lesson: PGA teaching pro Mike Sullivan at The Meadows in Allendale got my swing fundamentals in good shape early in the year when he espoused a proper spine angle at address. Runner-up: Tour Tempo's breakthrough research demonstrated at the West Michigan Golf Show was enlightening on optimum swing tempo. Most golfers swing too slow.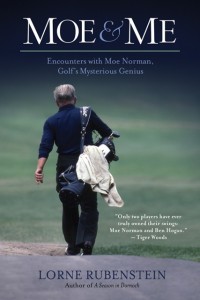 Best golf book: In a close race, Lorne Rubenstein's Moe & Me noses out Dave Stockton's Unconscious Scoring. Rubenstein deftly tells the story of the eccentric genius of Canada's Moe Norman and how he developed into one of the game's best ball-strikers. Incidentally, my best new reading accessory is the Buglit LED Micro Flashlight—a nifty and versatile reading lamp. Check it out at www.niteize.com
Best new golf quip: This occurred after one of my weekend golf pals hit a shot right at the flag on a par-three and started complaining before it even hits the green. Thinking it was not enough club, his shot ended up 15 feet dead short of the flag. Hence, we dubbed him "Moan Norman."