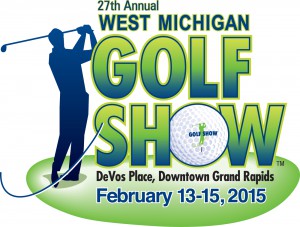 The 27th West Michigan Golf Show in Grand Rapids opens this weekend, a week prior to another notable entertainment event, the Oscars telecast on February 22. Hey, golfers love movies so why not throw down a red carpet and walk around DeVos Place with this year's Oscar nominees in mind? The envelope, please for:
Gone Girl—This will happen after she learns about Friday's Ladies Night when the first 500 women receive a goodie bag.
Into the Woods—Direction some of the free golf balls, handed out to the first 100 attendees each day, will take this coming season.
Birdman—A nickname for headliner Brian Manzella, a Golf Digest Top 50 Teacher, whose lowest score is a 59 on a par-68 course and a 63 on a par-70.
The Theory of Everything—Headliner Kathy G-Jensen, the current National PGA Teacher of the Year, will be sharing her swing thoughts and lessons on the seminar stage.
Boyhood—Along with the sequel Girlhood, this means checking out all the fun stuff for juniors at the Show including the PGA Family Fun Zone, Putt-Putt golf, and loads of information on junior golf events.
The Imitation Game—Means the Gun Lake Casino $10,000 Longest Putt Challenge where one lucky putter may win some big bucks.
Wild—Some of the swings PGA pros from Boyne Resorts and the Michigan PGA will try to tame at the free golf lessons area.
Whiplash—See above.
Grand Budapest Hotel—Actually, this exotic hotel is not exhibiting at the Show but the Grand Hotel on Mackinac Island is! In fact, all of Michigan's top northern resorts will be there.
Unbroken—That's the current condition of the "demo clubs" from top equipment manufactures that patrons may try out at the hitting net.
Citizenfour—Another way of saying "foursome" which will be given away as door prizes by several generous exhibitors.
American Sniper—An apt description about your neighbor who says he can't attend the Golf Show because he's playing in the Pebble Beach Pro-Am.
Produced by ShowSpan Inc. and sponsored by Treetops Resort, Gun Lake Casino, Golf Association of Michigan, Boyne Resorts and the Michigan PGA. West Michigan Golf Show's hours are 2:00 pm-9:00 pm, Friday; 10:00 am-7:00 pm, Saturday; and 10:00 am-5:00 pm, Sunday. Tickets are $10 for adults, $4 for children ages 6-14, and children 5 and under are free. Tickets will be available at the door and online at www.westmichigangolfshow.com