(Natchez, MS) This week the PGA Tour makes its annual stop in Jackson, MS., for the Sanderson Farms Championship where Sebastián Muñoz is the defending champion. Last year as a preview to the tourney, we (my wife and I) not only visited Jackson, the state capital, but also the bustling university town of Oxford. 
This past winter before the pandemic nightmare, we retraced our steps and took a detour to Natchez, less than a two-hour drive from Jackson. Over the past few years, we've heard numerous accolades about Natchez which attracts over 700,000 visitors annually. After an all too brief visit there, we now know why it's so popular.
History: Perched 200 feet on a bluff overlooking the Mississippi River, Natchez was first settled by the Natchez Native American tribe in the eighth century AD. The French later settled and established a fort there in 1716, predating New Orleans by two years. Spanish and British settlers joined the French and Native Americans resulting in a diverse local community. After the Revolutionary War, the city first served as the capital of the Mississippi territory and later became the capital of the new state in 1817 (twenty years before Michigan). Centrally located Jackson became the capital in 1821. 
Due to its rich soil, favorable weather and location on the Mississippi, Natchez grew in prosperity during the "cotton is king" and shameful slave labor era. Members of the West African tribe called the Bambara—whose name in a sad irony means "those who refused to submit"— were forcibly brought to this area for slave labor. Known for their native agrarian skills, the Bambaras helped transformed Natchez into a lucrative cotton trade center. 
During the Civil War, Natchez and its 600 antebellum homes were spared destruction when local leaders surrendered peacefully to the Union Army. Those homes became the centerpiece of Natchez's enduring appeal as a tourist attraction today.
Stanton Hall: This was the first home we toured and it was impressive. With tours given daily every 30 minutes, Stanton Hall is the quintessential example of grand architecture and opulence. Built by a physician who was also a wealthy planter and cotton merchant, the two-story brick mansion is noted for its elaborate furnishings, imported marble, huge mirrors and chandeliers. The tour was well-done, informative and at a refreshing pace.
Longwood: With limited time, we next visited the amazing Longwood, the largest antebellum octagonal mansion in the nation. It's also unfinished. Again, a helpful tour provided details of the house, how its building began in 1859, was then halted by the Civil War and never completed. The original design called for 32 rooms but only nine rooms were finished on the ground level of the home. Like Stanton Hall, the edifice is a National Historic Landmark and managed by the non-profit Pilgrimage Garden Club.
Natchez National Historical Park: In all, the Park consists of three properties: one, the William Johnson House & Museum—the home and business of William Johnson, the city's most noteworthy freed slave who became a wealthy business and property owner; two, the Melrose estate, a magnificent Greek Revival mansion with original furnishings and outbuildings; and three, Fort Rosalie, built by the French in 1716 within the territory of the Natchez Native Americans, it was part of the French colonial empire in the present-day city of Natchez, Mississippi.
Short stops: We visited the downtown area, the grounds of St. Mary's Cathedral and drove by Natchez City Cemetery and the Natchez National Cemetery which beautifully overlooks the Mississippi. 
Where to Eat: Based on a personal recommendation, our best lunch since New Orleans was at The Carriage House Restaurant on the grounds on Stanton Hall. Opening at 11 am, it's a smart and convenient place to have a southern-style meal before taking the house tour. It's famous for its fried chicken and silver dollar-sized biscuits. For me, the seafood gumbo and the praline BLT sandwich were delicious.
For dinner, we wanted a place with a sunset view of the Mississippi and the Magnolia Grill was perfect. Located along the riverfront called 'Natchez under the Hill,' it offers a glassed-in deck with grand views of the river and the interstate Natchez-Vidalia Bridge. An affordable, well-rounded menu and a cozy atmosphere complemented the scenery.
Where to Play: In the immediate area there are only two choices for golf, one public and one private. But for short stays, that will suffice. Duncan Park, a municipal course, has a history with an intriguing provenance. Dating back to 1916, Duncan Park's current back nine—thought to be work of Seymour Dunn, a prominent Scottish pro and designer from Lake Placid, NY—weaves its holes through a parkland setting marked with dogwoods, pines, oaks, and azaleas. Incidentally, Dunn designed the original nine holes at Mississippi's oldest club, Laurel Country Club, which is 140 miles east of Natchez. According to records, Walter Hagen played an exhibition at Duncan Park prior to his 1924 US Open win. As Dunn was one of The Haig's early golf instructors, it makes sense Dunn helped to persuade Hagen to play Duncan Park. That, along with a fat fee! The front nine, designed and added by Bryan Ault in 1993, boasts good conditions, rolling topography and undulating greens. Modestly priced, the course stretches out to 6320 with a slope of 117. There's also a practice range.
Beau Pré Country Club is member-owned and private, but welcomes unaccompanied guests outside the immediate four-county area. Designed by the Georgia-based Mike Young and opened in 1999, Beau Pré was highly recommended to me by a golfing friend from Austin, TX who's played there frequently. An attractive course with handsome conditions, the course has six sets of tees ranging from 5180 to 6993 yards. But even from its back tees, it only has a slope of 130, indicative of its player-friendly design. Guest fees are reasonable: $60 fee per player including 18 holes of golf, shared cart, tax and use of the practice facility. Guests may replay the same day for $18.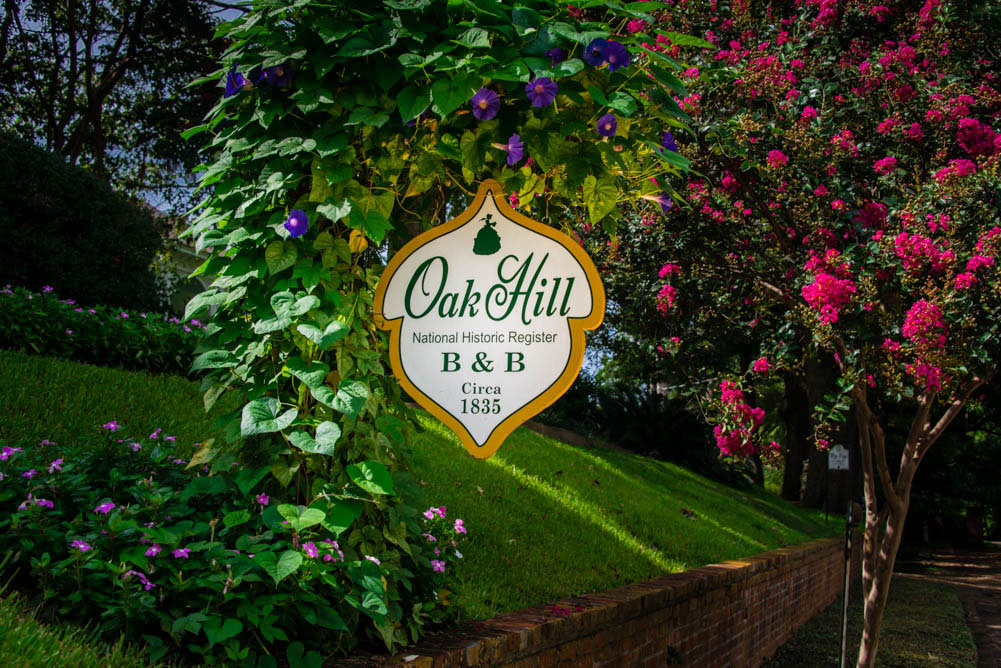 Where to Stay: The Historic Oak Hill Inn, highly lauded by several well-known travel websites, more than lived up to its lofty reputation for excellence. Located in the Natchez Garden District, the meticulously restored two-story home with gardens is the realization of owners Doug Mauro and Don McGlynn who moved to Natchez 16 years ago from New Jersey. Built in 1835, the house has a rich history (only three owners in all) and is exquisitely furnished & decorated in period pieces and antiques. The attention to detail is quite amazing throughout the home. The accommodations (Bed) were quiet and comfy and the food (Breakfast) was epic. Like a compelling movie, I'm not going to spoil the surprise of the gourmet breakfast prepared by the affable duo. Let's just say, hungry guests are in for a treat and probably a nap later!
Leaving Natchez on a clear, peaceful and sunny Sunday morning, our only regrets were not visiting this friendly community sooner and for an extra day or so. But as we motored north along the historic, scenic and the nearly deserted Natchez Trace Parkway— another blessing of the National Park Service—we asked ourselves two fundamental and important questions:
1. When can we return? and 2. Where's the nearest gas station because—Yikes!—we're on empty!
For more information on the sites mentioned here, check out Visit Natchez which also has an excellent Visitor's Center.
For an excellent review of the history of Slave Resistance in Natchez from 1719-1861 visit
Images courtesy of A. Laird, Visit Natchez, Duncan Park GC, and the Historic Oak Hill Inn.