Though Houston is the country's fourth largest city, I've never visited it.  Until last March, that is. After learning Michigan native Tom Doak and associates finished the redesign of Memorial Park GC for the 2020 Houston Open, that was good enough reason to make a trip. Along with the remarkable outcome of Memorial Park for local residents and the upcoming tournament, I was equally impressed with Houston and its many attractions. 
With my spouse joining me on the journey, these were our favorite things about visiting Houston for an embarrassingly short two days.  (Note: At the time, the pandemic was in its very early stages, before wider travel inhibitions and mandates developed.)
Space Center Houston: This is one of the city's most popular attractions and is no.1 with international tourists. Upon entering, we immediately booked a tour of the celebrated Christopher C. Kraft Mission Control and discovered the Apollo Mission Control Center from which NASA led Gemini and Apollo missions, including the historic first lunar landing mission in July 1969. The Mission Control Center is wonderfully preserved to its 1969 origins, down to the ashtrays filled with cigarettes butts. Television broadcasts were played of the lunar landing, conjuring up all the awe and emotion of that day. Back at the main building we toured the extensive exhibits, including going inside the shuttle replica Independence, mounted on top of the historic and original NASA 905 shuttle carrier aircraft. It is the world's only shuttle mounted on an SCA and the only one allowing the public to enter both. We were also blown away by the IMAX film, Touch the Stars, that dramatically highlights the robotic spacecraft used in the exploration of our solar system and the galaxy beyond.
Museum of Natural Science: Part of the Museum District in Houston, this one provided a special, unexpected surprise. If you, your children or your grandchildren are fascinated by dinosaurs and other prehistoric beasts or just bones, this is the place for you. Inside spacious Morian Hall of Paleontology is a fascinating and extensive collection of exhibits, imaginatively designed and displayed. Dinosaurs are depicted in predator and prey action displays as well as the grand saga of human evolution. There are other permanent and temporary exhibits, all well worth a half-day visit or more.
Museum of Fine Arts: Art lovers will be enthralled here, in one of the largest art museums in the U.S. with over 70,000 works from ancient times to current art. The main building is impressive in itself with grand spaces. With limited time we confined ourselves to the main building. To our good fortune, there was a temporary exhibit of "Norman Rockwell: American Freedom" which highlighted some of his most popular works including the 1943 iconic depictions of FDR's Four Freedoms.  We were surprised to see planning sketches made, from live models, of some of his most famous illustrations. We also explored the permanent exhibits which are extensive. There's art here for anyone's taste. Note: There's a one-day pass available for $20 to cover all the major city museums.
Co-Cathedral of Sacred Heart: As is our custom, we visit prominent churches during our stay. Six years in the making, the renovation of this Co-Cathedral (with Galveston, TX)  opened in 2008. The architects beautifully provided a worship space combining traditional elements with contemporary ones, all done with durable and lasting materials such as limestone, marble and accents of golf leaf and copper. The mosaics are equally impressive as is the Opus XIX Pipe Organ, hand crafted by a team led by Martin Pasi. Tours are given regularly but self-guided tours are available daily.
Public Transportation: Situated downtown, public transportation was inexpensive, easy to use and to navigate. We took advantage of the MetroRail that ran to the Museum District and only used our car to get to and from the Space Center, about 20 minutes away. 
Where to Dine: There are loads of good restaurants in the downtown area that were within walking distance of our hotel. We really enjoyed the food, service and ambience of nearby Mia Bella Trattatorio. For Tex-Mex, we favored Irma's Southwest. And then's there the fine dining available at our hotel. See next.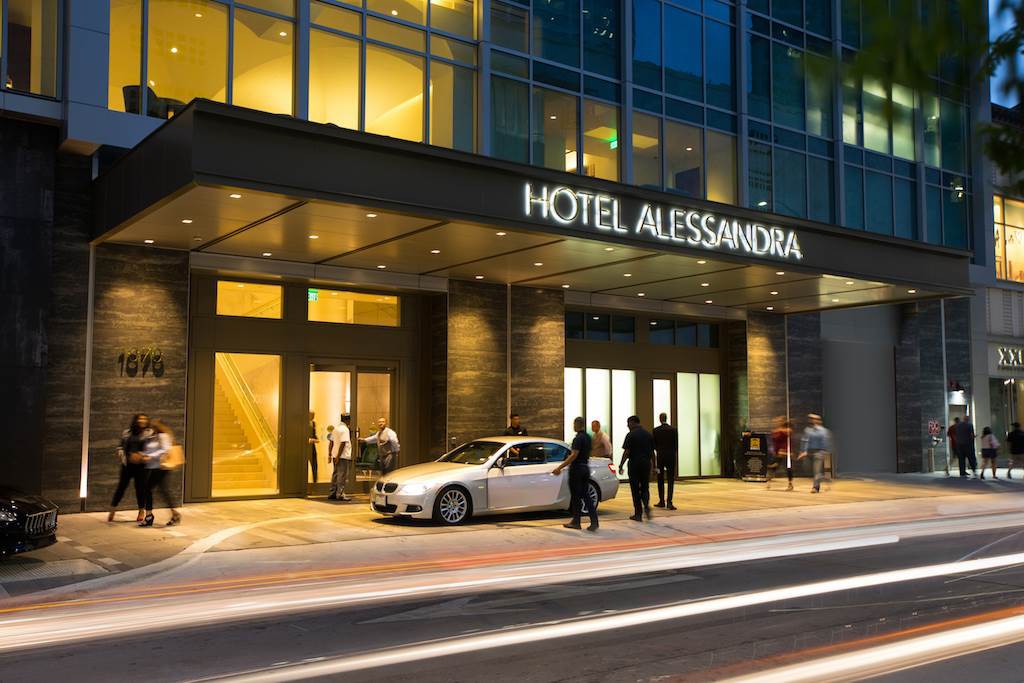 Where to Stay: Our downtown hotel of choice was the Hotel Alessandra, conveniently located in the heart of the city. The hotel billed itself as "sophisticated and cosmopolitan"—and indeed it's a classy locale—but its service was friendly, unstuffy and genuine. Our room was tastefully decorated with all the amenities necessary for the seasoned or pampered traveler like premium linens, marble-clad bathroom, walk-in shower with rainfall heads, comfy desk area, in-room Nespresso Maker, and premium television, among others. We also enjoy the ambience of the elegant bar area—Bardot—with its spacious windows on the second floor overlooking the street. Electing to go out and see the city at night, we didn't dine at Lucienne offering modern French and Mediterranean cuisine, but its reviews on TripAdvisor and Google were flattering. One perk by staying at the Allessandra is the complimentary Maserati car service provided to guests for trips in the immediate downtown area. Wanting to stretch our legs, we walked to one restaurant one evening and were promptly picked up later by the service. Nice guest touch! Also available at the hotel is a spa, fitness center, swimming pool and group meeting facilities.
Finally, a hotel is often best measured when things go awry. When we checked out and got back into our valet-parked car, the staff ably assisted us with our luggage. Unfortunately, our car keys were not left inside the running car when we departed. When we stopped later we noticed the keys were missing. The hotel's parking staff had already informed me by email of its mistake and was awaiting my instructions. Thankfully, we always travel with an extra set of keys so "no harm, no foul." Those missing keys were next-day shipped to us and arrived at our destination 24 hours later. We were very pleased how the situation was handled, indicative of the hotel's commitment to customer service. Visit www.hotelalessandra-houston.com
Admittedly, we only scratched the surface of this robust and thriving city. Don't take as long as we did to visit it.
For more information about visiting Houston, check out www.visithoustontexas.com
photos courtesy of VisitHouston, Hotel Alessandra