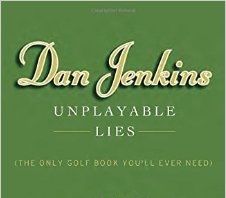 If you're looking for a good golf book for Father's Day you might consider Dan Jenkins' Unplayable Lies (Doubleday, $25.95.) One of the foremost golf writers of our time, Jenkins has compiled a tome of thirty-eight essays on a variety of golf subjects, many of which are imparted in Jenkins' wickedly funny and sardonic manner. Half of the essays are original while the balance has been reworked based on previously published articles in Golf Digest. Accordingly, if you're a GD subscriber many of these essays will be familiar.
What I found most entertaining and surprising about this book was its insight and studied reflection on the history of the game. Yes, there's plenty of Jenkins patented wit and sharp one-liners at play here. But there's also a wealth of golf history and appreciation for the game's most revered figures and milestones. Given Jenkins' admitted idolization of Ben Hogan, there are also a number of references and mentions about Hogan throughout the book. As it's been said, these Texans really stick together.
For those in Michigan who count Walter Hagen as an adopted favorite son, Jenkins rightfully elevates his stature by a thoughtful review of his distinguished career. For one, he quotes Gene Sarazen saying, "We owe a greater debt to Walter Hagen than we do to anything else that's happened in this game. Walter took the club pro out of the kitchen and the repair shop and put us on the map." Later in an essay titled "The Match of the Century" he reports on the head-to-head matches in 1926 between Hagen and Bobby Jones. Hagen got the better of Jones while also donating $5,000, half of the purse, to a local hospital. The Haig was "giving back" before it became a corporate branding tactic.
I also appreciated Jenkins re-examination of what constitutes a "major" from a historical perspective. As he writes, "First you have to go with me and acknowledge there were majors before there were majors." In this vein, the Masters as a major was preceded by a number of other tournaments, including the Western Open, North and South Open and the Metropolitan Open. As such, Jenkins establishes a "new count of the all-time multiple winners of golf's major championships." For would-be golf historians or those who love to regale buddies at the 19th hole, this chapter alone is reward enough for purchasing the book. It's no revelation that Jack Nicklaus still tops the list with 23 "majors" but many will be enlightened to see Hagen in second place with 22. Jenkins goes on for six pages, listing the majors of past and current players (male.)
But those who relish Jenkins for his wit and biting humor won't be disappointed. As in, "take the sports agent. Please." Or his recalling a locker room incident between two angry players when one of them accused the other of having an affair with his wife. According to Jenkins, the player retorted, "I thought about it, but the line was too long." Similarly in an essay titled "Letter of Resignation" he has a devilish nickname for a philandering tennis pro at a club.
Along the way, Jenkins shares his special memories and anecdotes, in individual chapters, for the Masters, the U.S. Open, the British Open and the PGA. Along with Michigan's Jack Berry, Jenkins was presented the Masters Majors Achievement Award for having covered over 40 Masters (now 65!) and like Berry was issued a reserved parking spot in the Media lot. In that chapter, he nicely credits the much maligned Hootie Johnson by saying he "stood up to the media heat. Refused to be intimidated by howling ladies and other protesters." At the time, the Augusta National (and thus the Masters by association) was mischaracterized as being a "stag club" (see Pine Valley) and categorically banning female members. Current Masters Chairman Billy Payne receives a favorable nod by Jenkins for being smart enough to defuse the situation and wisely admitting female members Condi Rice and Darla Moore.
Jenkins does have an old school prejudice against wearing shorts on the golf course. This in spite of recalling that at the 1996 PGA at Valhalla the caddies rebelled and refused to wear pants in the insufferable Louisville heat that caused several of their brethren to incur heat stroke. "Now it's shorts everywhere. Caddies, sportswriters—everywhere but on me."
Guess one could say after reading admirable Unplayable Lies, Jenkins' writing definitely has legs even if he doesn't.