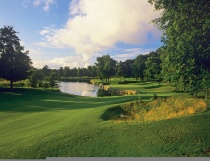 TheAPosition is pleased and honored to welcome as partners John and Jeannine Henebry, two of the most respected and talented golf photographers working in the industry today.
The Henebrys have been specializing in golf course photography for over 25 years, a brother-sister team traveling the globe to capture in stunning still-life fashion some of the most storied and picturesque courses in the game. At left is a teaser sample–Shadow Creek in Las Vegas as seen through a Henebry lens. Their work has frequently appeared in major golf magazines along with other trade and consumer publications and several books.
The pair has been assigned to photograph courses designed by such A-list golf architects as Robert Trent Jones II, Jack Nicklaus, and Arnold Palmer. The Henebrys photographed 85 courses all over the United States for a Tom Fazio book project "Golf Course Designs," and were the first to photograph what was then the only18-hole course in Nepal, on the Hunting Grounds of the King, the Gokarna Forest Golf Resort.
The Henebrys have over 400 courses in their library and are involved annually with the production of at least 12 golf calendars with worldwide distribution. Their clients include developers, architects, builders, calendar companies, book publishers and several national and international golf publications.
Inspired by such renowned landscape photographers as Ansel Adams and Edward Weston, the duo is known for shooting with a large-format view camera, their goal being to maintain all features of a scene in sharp focus. The result of their fastidious work is stunning photographs that are rich in color, evoke a sense of timeless beauty and capture the scene in brilliant clarity.
"We got into photographing golf courses in Palm Springs in the early 1980s," explains Jeannine Henebry. "We were drawn to the desert for the golf and beautiful desert light. Out timing was perfect with the golf boom ready to explode in the desert area."
At the time, Jeannine was finishing her formal photography education at Art Center College of Design and John was returning from assignments in Asia for National Geographic.
"We settled in La Quinta as PGA West was breaking ground," says Jeannine. "Landmark Land was our fist golf client and the rest is history."
The pair is intrigued by all facets of golf design, falling in love with the game while playing golf with their father, Major General John Henebry in Chicago, Ill.
"We were both interested in playing golf from a very young age. We were raised in Chicago and golf was our father's passion. In the off-season, we used to fly in dad's airplane to play golf and escape the cold weather. He would take us to Florida, Georgia, Arizona and California. We were bit by the travel/golf bug at early ages."
She adds, "We were intrigued by the golf course architecture we saw growing up and playing the old-style courses in Chicago, as well as the period of course design that moved huge amounts of dirt to construct layouts. The circling back to a more minimalist style, the trend of late, we also find fascinating."
The Henebrys believe their work is different from that of other golf photographers for several reasons.
"We photograph a golf course from the golfer's perspective. We look at a course from the Ansel Adams/f64 Group approach, where we see golf courses as landscapes with our large format, 4-inch-by-5-inch view camera. We wait for the magic light of dawn and dusk to illuminate the course with streaming shadows. The course's beauty is extenuated from the attention to detail we derive by using our view cameras."
The pair sometimes works in tandem but mostly "leap frog" one another covering their various projects.
The Henebrys' partnership with TheAPosition came about through a meeting with Brian McCallen, whom the pair worked with at Golf Magazine. They had provided images for the writer's book, "The Top 100 Courses You Can Play."
"This is a fantastic group of professionals who LOVE golf," says Jeannine about TheAPosition. "TheAPosition is a place to put everyone's energy into one venue and where our excitement can build off one another's enthusiasm and passion for what we do."
QUICK SHOTS
 Most beautiful golf courses you have shot?
Shadow Creek, Bandon Dunes, Ballybunion, Kuari Cliffs.
Most beautiful hole you have shot?
Royal County Down's hole number 4 with blooming gorse grass.
Toughest golf course to shoot?
The Prince Course in Hawaii, with its inconsistent, shifting weather.
Toughest conditions to shoot in?
John was in New Zealand at Terrace Downs and got hammered with rain and wind for five days. After being patient and playing golf while waiting for the weather to clear, he was rewarded with  an absolutely incredible clear sky and mountains surrounded by snow.
Who is a better golfer?
Depends on the day!
Favorite golf course to play?
PGA West Stadium Course or walking and playing on Irish links courses.
Low rounds?
79 for John and 84 for Jeannine at Ballybunion.
Dream Foursome?
Mike Meldman, Dana Fry, Tom Fazio, Robert Trent Jones II.
Favorite golfer?
Fred Couples
What's your personal record for most holes played in one day?
We played 54 at the La Quinta Mountain Course on day in July…..it was FUN!!!!!!!!!