For those golfers who have never played the Old Course in St. Andrews, Scotland and believe that the world will end on Dec. 21 because the Mayan Calendar says so, here is the perfect way to go out in style.
Haversham and Baker, Founder & CEO Sam Baker commented, "We can't help all those millions live their dream before what could be doomsday but we can use the seven 2012 Old Course tee times we have left in our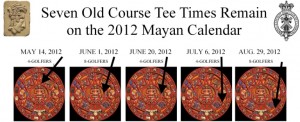 inventory to help a lucky 28. We're going to give first dibs on those times to golfers who've never played the Old Course and we're going to give them our 'Mayan Mark Down' by selling them the times at our cost.  All we ask in return is that the 28 book at least a six night Scottish package with us."
According to Baker, H&B is the ideal firm to offer this trip.
"The company has become the leading provider of international golf travel to America's private clubs and their members in part because it has a legendary reputation for preparing for every possible contingency no matter how remote it might seem."
Including the end of the world, apparently.
Golfers who've never played the Old Course and want to take advantage of what could literally be a once in a lifetime opportunity should contact Haversham & Baker at 800-883-3633 or UTeeOff@haversham.com.