NFL Ahmad Rashad and his estranged wife Sale Johnson are using their affinity for golf as a weapon in their disintegrating marriage, according to the New York Post.
Johnson, the former wife of New York Jets owner Woody Johnson, had Rashad's access pass to the Bear's Club in Jupiter, Fla.,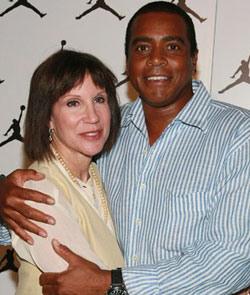 deactivated, according to the paper, and Rashad fired a return salvo.
"Things are really ugly. They used Rashad's house at Frenchman's Creek to house staff while they were married, but they still both had a golf membership. Now he has moved back in and revoked her membership," a source told the Post.
"Sale is an avid golfer and likes playing at Frenchman's Creek with her friends. She is livid she can't get in. Even though it is right across the road from the Bear's Club, she's looking to buy her own house at Frenchman's Creek, not to live in, but to play golf."
Home prices at Frenchman's Creek range from $500,000 to more than $5 million, according to the Post.
Rashad's frequent nights out with Michael Jordan and Tiger Woods led to the split, the Post reported.
You can read the entire story by clicking here.