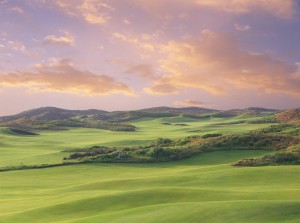 ORLANDO, FLORIDA (Sept. 2010) — Arnold Palmer started becoming modern-day golf's first player-architect back in the early 1950s, while still a student at Wake Forest University. He and his teammates created a layout near the college campus that would serve as their practice facility.
When he served in the U.S. Coast Guard, Palmer was asked to build a nine-hole course on a weed-choked grassy patch of ground between the runways of the air base where he was stationed. "That probably was not the most challenging layout but certainly was the most exhausting to create," Palmer says. "When I was done, it was a pretty rudimentary layout – a nine-hole chip and putt, really – but I was pleased with my efforts, and the officers who played it were delighted to have a place to hit balls."
More than a half-century later, one of the game's greatest legends represents the face of the new generation of golf course design. Arnold Palmer Design Company (APDC) is progressively helping shape the future of golf course architecture by incorporating talent, experience and expertise to address the industry's most pressing issues and challenges — and during a brutally sluggish stretch for the field of golf course architecture, the firm bearing the name of one of the game's most enduring legends is busy with a host of new projects.
Since its inception in 1972, APDC has designed approximately 300 golf courses all over the world, including Chung Shan Hot Spring Golf Course in southern China, which in the early 1980s became the first new golf course built in the country in more than half a century and subsequently ignited a golf boom in that nation. APDC has developed a worldwide reputation for designing golf courses that are all unique and special. The firm is not known for any particular trademark or style; rather each golf course is compelling and authentic featuring its own characteristics.
The company's move to the Bay Hill Club and Lodge in Orlando, Florida, from its longtime home in Ponte Vedra four years ago signaled a new horizon for APDC. Yet, at the same time, an economic downturn and its subsequent trickle-down effect on golf and golf course architecture has raised the bar for golf course architecture.
Domestically, golf course restorations have proven to be among the leading developments in golf architecture today, as countless classics attempt to recapture the strategic genius of their original design. The majority of new golf course designs, meanwhile, are everywhere else around the globe in some of the most far-flung international destinations.
Yet, during a period of time when golf course architecture is as slow as it has been in 50 years, APDC is staying busy with an active project list numbering more than 20, including a handful of new "firsts": First golf course the company has designed in Mexico (El Anhelo), first in Brazil (Fazenda Boa Vista), first in Uruguay (Las Piedras) and the first in eastern Europe, this one in Romania (Hida).
APDC has earned a reputation for designing world-class golf courses that attract the highest profile golf events — PGA, LPGA, European and Junior Tour competitions — including the 2006 Ryder Cup on the K Club in Ireland. In addition, the company is widely recognized as one of the preeminent experts in the field of renovation work, highlighted by its remodeling of world-renowned tournament venues such as Pebble Beach and Bay Hill.
With a combined total of nearly 150 years experience, members of the APDC staff are devout students of their trade — educated in both the classroom and in the field — including an in-house irrigation designer and an agronomy services expert, both considered among the industry's most knowledgeable. In addition, Executive Vice President and Senior Golf Course Architect Erik Larsen, who joined APDC in 1983, currently serves as president of the prestigious American Society of Golf Course Architects (ASGCA).
"All of us work very well together," says Palmer. "I give them my feelings and thoughts on a particular hole or course and they fit it in. We respect and try to preserve the existing terrain and environment on every course as much as it will allow us to do so and still stay within the framework of playability. Put simply: We do not force or design unnecessary grade work or features. I believe in traditional, straight-forward design that produces courses with lasting quality and that are exciting and enjoyable for all players."