Up-and-coming PGA Junior League Golf offers a team setting for golfers to learn and enjoy the game.
GREENSBORO, N.C. (April 2013) — Modeled after Little League baseball, PGA Junior League Golf is bringing young players into the game in an exciting new way, offering a team sports approach to golf while fostering a sense of sportsmanship and camaraderie typically associated with other recreational team activities.
Its organizers say the PGA Junior League is designed to better "socialize" the game for boys and girls ages 13 and under. Much like other recreational league sports, PGA Junior League Golf participants receive team uniforms with jersey numbers. Rosters are co-ed and competitions are two-person scrambles, which reinforces the team concept and limits pressure on any one player. Coaches can substitute players every three holes so all of the 10-12 golfers on a team participate.
"You see the soccer and baseball fields full of kids. We want it to be the same with golf," said Ron Schmid, executive director of the Carolinas Section of the PGA (CPGA). "This is a quantum leap into junior league play and the CPGA is excited to be an active partner. It's important not to lose sight of the most important part of golf: Having fun and the friendships built through the game."
Schmid said teams play regular season matches throughout the first part of the season before convening for city, sectional and regional championships. Each regional champion along with the host region team advance to a national championship held in the fall.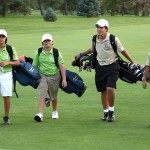 In 2011, PGA Junior League Golf (PGA JLG) played its pilot season in a few select markets: Atlanta, Tampa, Dallas, and San Diego. The Atlanta team won the inaugural JLG World Series held in September 2011 at TPC Sugarloaf in Duluth, Ga. Last year, PGA Jr. League Golf grew to nearly 2,000 participants on more than 120 teams in greater than 20 select markets.
The 2012 season culminated with five regional champions (teams from Georgia, Texas, New Jersey, California and Florida) joining the host team from Illinois in the PGA JLG Championship, held in September 2012 at Cog Hill Golf and Country Club in Lemont, Ill. Team California emerged victorious from the competition to bring the 2012 season to a close. "It was an incredible finale to a great first year," said Allen Wronowski, honorary President of the PGA of America. "We look forward to engaging many more young golfers next year."
In 2013, PGA JLG becomes available nationally — and is already shaping up to be bigger and more widespread than ever. As of early April, more than 60 PGA professionals have registered and are recruiting young golfers for their PGA JLG teams across the Carolinas.
In addition, PGA JLG is designed to generate multiple benefits for golf professionals and facilities. The program was created with an understanding of the need to find efficient and innovative ways to boost revenue without increasing demand on time and resources. PGA JLG generates profits for golf courses, creates new and incremental revenue streams and provides participants and families an unmatched golf experience.
New markets are becoming involved and previous markets are getting even larger involvement. This is in large part due to the diligent involvement of the Sections of the PGA of America, and the PGA of America to promoting the growth of this intiative. PGA JLG fits right into the mission of the PGA to "promote the enjoyment and involvement of the game of golf."
"After all, what better way to promote the enjoyment and involvement of golf for children than having them play side by side with friends, but still in a competitive atmosphere to get them started into a sport for lifetime or even possibly the gateway to being on high school and college golf teams," said Mitchell Smith, PGA JLG Manager. "With recruiting starting to near a close for 2013, it is amazing how the program has grown the number of teams from year to year more than six-fold on a consistent basis.
"Imagine where PGA JLG will be moving forward through the years with steady growth already seen in such a fast amount of time. PGA Junior League Golf looks forward to working with all new coming and previous participants for a great year of golf."
League Golf, LLC is the operating company of PGA JLG. The company was created in 2011 with a mission to create and operate grassroots, recreational team and league programs for golfers of all ages. The objective is to deliver a portfolio of offerings that grow the game of golf through regularly scheduled participation with teams.
PGA JLG is supported by LEJ Sports Group, an Atlanta based sports agency with an expertise in the operation and administration of national grassroots youth sports programs. This infrastructure provides the necessary support to make PGA JLG a turnkey program that requires minimal time for the Team Captain.
Parents interested in registering their children for PGA Junior League Golf or finding out more information about the Carolinas program can contact Andrew Ward, 336-398-2742, award@pgahq.com or visiting www.pgajrleaguegolf.com.