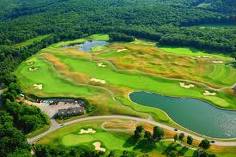 I first heard about Roger Rulewich, Robert Trent Jones' man in the field for 35 years, while researching a piece on one of his first solo efforts, Crumpin-Fox Club in Bernardston, Mass. That was in 1990. I visited Roger, who lives and works in Bernardston in the foothills of the Berkshires, a summer or two later.
A thoughtful, pipe-smoking man with less flash and filigree than any other golf course architect of my acquaintance, Roger, acclaimed by his peers for his ability to route a course, took me on a tour of Crumpin-Fox. Named for a local soda company whose bottles were excavated during course construction, the club was built in fits and starts. Conceived in 1969, nine holes were completed by 1977. The course was sold in 1987. Rulewich built the front nine and renovated the back nine in time for the formal opening 20 years ago.
A rugged layout built to heroic dimensions, Crumpin-Fox is a heavily wooded course that climbs past granite rock outcrops and cattail-rimmed ponds. In evidence are many of the usual Trent Jones trademarks—large inkblot bunkers, huge rolling greens, lots of risk/reward options—but Crumpin-Fox was stamped from a slightly different mold, even if the designer was "Roger Trent Rulewich," as he came to be known. Widely acclaimed as one of the finest public-access courses in the Bay State, this burly 7,007-yard layout was designed to test the stoutest Yankee spirit to the utmost. Equal measures of courage and discretion are required to score.
Around the turn of the millennium, Rulewich showed up in my neck of the woods. Bill Sandri, the proprietor of Crumpin-Fox and a second Rulewich-designed course in Florida, hired Roger to build Fox Hopyard Golf Club in sleepy East Haddam a few miles away from the Connecticut River. The course takes its name from the adjacent Devil's Hopyard State Park, which is known for the flat, hula hoop-sized rocks that polka-dot a stream that flows through the park.
I remember calling Rulewich and asking him about the prospects for the course. This was shortly before ground was broken on the 530-acre site. I could hear Roger clearing his throat as he took the pipe from his mouth. "Brian, there's a lot of rock in Connecticut," he said matter-of-factly. "In fact, there's more rock here than I've ever seen on a golf course site." Yes, I knew glaciers had scraped the land during the last Ice Age and either exposed or deposited rock across the southern tier of the Nutmeg State. But surely that wouldn't be a problem with today's earthmoving equipment? "We shall see," he said, hinting at the hurdles posed by exposed ledge, buried boulders and alluvial deposits.
Opened in 2001, the Hopyard, enclosed by wooded ridges and framed by old stone walls, is a modern classic. Like Crumpin-Fox, the land is rugged, with sharp elevation changes and numerous wetlands to negotiate. Selecting the correct set of tees for one's ability level is crucial. From the tips at 6,912 yards (par 71), there are some long forced carries over marshland on several of the par fours and fives.
While the front nine is shorter and seemingly sportier than the back, make sure you're warmed up before teeing off. The par-four second plays straight uphill to a banked fairway that leads to peek-a-boo green undercut by deep bunkers. At 517 yards from the tips, the uphill par-five third is a good strategic test that climbs to a beautifully framed green benched into the side of a hill.
The fourth hole is one of the prettiest par threes in the state. The back tee is perched 90 feet above a tricorn-shaped green defended left and right by saucer-like bunkers. In the fall, there can't be a prettier shot in New England, a crisply struck iron shot soaring high above the treetops and coming to rest on the firm, speedy green.
Speaking of fall. Through the end of the season, Fox Hopyard knocks $50 off the green fee. Which means walkers can play one of the finest semi-private courses in Connecticut for $39 Monday to Thursday, $49 Friday to Sunday. The spacious clubhouse, set atop a massive rock ledge, has an excellent restaurant (On The Rocks) and a welcoming bar. Details for both courses: www.golfthefox.com.