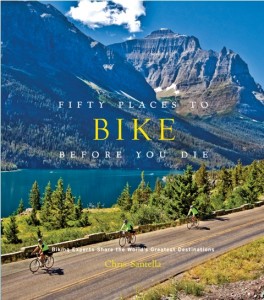 I'm happy to announce that my 11th book — Fifty Places To Bike Before You Die — has recently been released by Stewart, Tabori & Chang.  After appearing on an Oregon morning television program today (AM Northwest), I realized it would be wise to post something about this monumental event.  The publisher's press release is below.
Fifty Places to Bike Before You Die:  Biking Experts Share the World's Greatest Destinations
Author Chris Santella is back at it again with the ninth installment of his bestselling Fifty Places series, this time exploring the world on bikes with Fifty Places to Bike Before You Die (Stewart, Tabori & Chang; U.S. $24.95 / Can. $27.95; 978-1-58479-989-4; October 2012). Biking has grown increasingly popular in recent years as both a leisure and extreme exercise activity, and Santella covers trips for cyclists of every skill level. With an eclectic mix of international and national locations, the fifty chapters capture breathtaking cycling trails around the world. Some highlights include:
Arizona: Grand Canyon—North Rim
Costa Rica: Arenal to Guanacaste
Italy: Tuscany
New York: New York City
Oregon: Chief Joseph Country
As always, the destinations are brought to life with breathtaking color photographs and are accompanied by fascinating essays. In addition to his own writing, Santella features commentary by top names in the field, including author Joe Kurmaskie (aka "The Metal Cowboy"), and editor Andrew Bernstein of Bicycling magazine. Fifty Places to Bike Before You Die is a highly giftable book, perfect for anyone looking to have a unique biking adventure.
ABOUT THE AUTHOR
Chris Santella is a freelance writer and marketing consultant based in Portland, Oregon. A regular contributor to the New York Times and Forbes.com, he has also contributed to the New Yorker, Travel & Leisure, Golf, and Delta Sky. Santella is the author of eight other titles in STC's Fifty Places series.
Fifty Places to Bike Before You Die: Biking Experts Share the World's Greatest Destinations
By Chris Santella
Stewart, Tabori & Chang / October 2012
U.S. $24.95 / Can. $27.95
ISBN 978-1-58479-989-4
Hardcover with jacket
224 pages / 7″ x 8″
40 color photographs