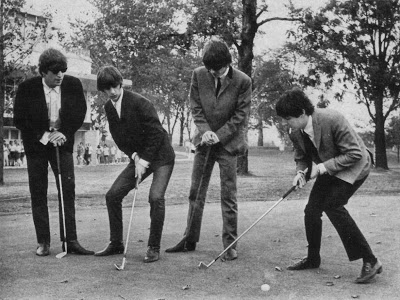 [David DeSmith has more on The Beatles and a top ten hit list of great courses around Liverpool in The Grain: The Open Championship Issue 2014]
With the Open Championship returning to Royal Liverpool this week, it's time to spread the news of a new local course that opened after the 2006 Open at Hoylake and has flown under the radar since. Few know it, but The Beatles are so beloved in the Liverpool area that in 2009 the City Council created a new golf course commemorating the lives and music of the Fab Four. The course, which was designed by famed golf course architect George Martin Hawtree, was due to open in 2008—but it took several months to convince Sir Paul to don tartan slacks for the ribbon-cutting. Liverpudlian golf insiders tell me that some of the course's best holes, with names all derived from Beatles lore, include:
Hole 1 – "Norwegian Wood" – a gentle 340-yard, par-4 named for Ringo Starr's favorite club, his Norwegian wood—a custom-made version of a late-1960s-era 2 wood.
Hole 3 – "Let it Be" – a testy par 4 with vicious, environmentally protected blue-meanie grass lining both sides of the fairway. Course rules require abandoning your ball with a one-shot penalty unless your name is Jeremy.
Hole 7 – "Strawberry Fields Forever" — a demanding 225-yard par-3 that requires a long forced carry over an heirloom strawberry patch. If you hit into it, you are guaranteed to take forever to get out.
Hole 9 – "Sea of Holes" – this 540-yard par 5 features a green with 12 holes cut into the putting surface, one for each of the original studio albums released by the Beatles. You must hole-out here, there and everywhere before proceeding to the back nine.
Hole 13 – "Ono!" – Originally named "Hello Goodbye," this short one-shotter of just 127 yards has an island green just 909 square feet in size, making getting on in regulation tough. Wayward tee shots so often resulted in exclamations of alarm that the hole was renamed "Ono!" in 2011.
Hole 16 – "Octopus's Garden" – the course's most aesthetically pleasing hole, the green at this long par 4 is shaped like an octopus whose eight tentacles stretch out between a series of deep, nasty bunkers from which one frequently hears cries for "Help!"
Hole 17 – "The Long and Winding Road Hole" – a dogleg-right requiring a deft tee shot over the corner of a yellow submarine pen. Stray too far to the right with your second shot and you'll have to play your ball from the zebra crossing of a local road congested with frenzied photo takers.
Hole 18 – "The End" – It's the course's most straightaway hole, but for some reason foursomes are unable to finish playing it together.
Hole 19 – "I'm a Loser" – the aptly named 19th hole pub, where bets are settled and half of all patrons sit rubbing their hands together in glee exclaiming "I, me mine!" and the other half leave in surly moods muttering "You never give me your money…"