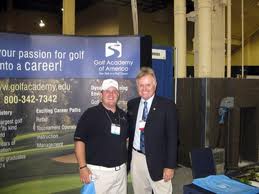 Myrtle Beach completes its claim to the title of Golf City, USA by including the highly impressive Golf Academy of America among its many and various golf-oriented institutions. Yes, it's got four other locations across the country, but you had to like the vibe of studying this field right here on the Strand. We toured the campus-under-one-roof in between Warrior rounds and found nothing but first-class learning facilities and evidence of a heavy-duty curriculum for future club professionals, sports marketers and golf academy owners.
Young, serious-minded students brushed past us on their way from courses in precision clubfitting, business liability, retail merchandising, golf history and the like. Faculty and staff members guided us from classrooms to labs to resource centers, answering endless questions that by all means they've heard many a time already. We found out that 10,000 graduates have labored through its 16-month program to earn associate's degrees–then headed into the field guided by a professional network overseen by a 45-member faculty.
The U.S. and basically every Western country is on its way to a new template for higher education, whether it is humanities-based or more geared to professions and vocations. When you stop to think that the 200-campus University of Phoenix has operated with enrollments of as many as 600,000 students in a single academic year, it's clear that our approach to distributing knowledge is in flux. Yes, grinding along through the hoary and time-tested PGA of America system of schooling followed by master-apprentice training is a great way to enter the golf industry, it's not the only way and it's really not the fastest way. Golf-staff jobs aren't easy to come by, and it's possible that many a Golf Academy of America grad will have to endure some time in "outside operations," but the education they can provide here seems rock-solid.
I was tempted to let one of the students know that what they get out of an experience like this all depends on what they put it into it, but I thought better of that.