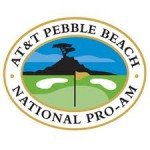 If you're a golfer and have had the opportunity to play Pebble Beach, consider yourself fortunate. Most golfers will never play Pebble because they never get to the West Coast or they would rather not spend the greens fees but rather make their house payment. Everyone would agree, golfer or not, that the Monterey Pennisula is some of the most beautiful land anywhere. If you are the kind of person who enjoys seeing miles and miles of beautiful coastline where on one side you can see whales and dolphins and on the other see beautiful scenery mixed with cypress trees and lavish rock formations, then this is the place for you.
The AT&T National Pro-Am gives people from all across the country a glimpse into just how special this place is. It highlights top Tour players, entertainers and players from the world of professional athletics. In watching this tournament for many, many years, I have come to the conclusion that the Pro-Am portion is a total waste of time. Why would anybody in their right mind be interested in seeing people they have never heard of play golf…and bad golf at that. To me it distracts from the real purpose – to keep it a real PGA Tour event. Who needs the window dressing?
What gets me is that in the event, I've never seen so many amateurs, so many CEO's, so many rich guys who say they are scratch players. I've never seen so many amateurs claim that they play to a 1-handicap, 3-handicap or 5-handicap and from what I've seen, these guys stink it up like bug spray inside a shoe closet. I'd love to invite them all here and play each and everyone to their "Pebble handicap." On the other hand, you have amateurs, like in any tournament, who are "sandbaggers." These guys figure that they'll just have 3 days of unexpected good golf and chances are good they will be playing on Sunday for the hardware. My question is: why go through this? Who really cares if Joe Blow makes it to Sunday. Who really cares to see some celebrity hit bad shot after bad shot. Aren't you really interested in what your favorite professional player is doing?
It does a disservice to the tournament, even though that was the original intent. I get it, but times change, and things sometimes have to change. There are a few hard and fast rules in golf and one of them is "Tour professionals hate playing with amateurs." If you want to feel what it's like playing golf next to a real golf professional, next time you see your club pro, ask him to play golf. It's cheaper and you don't have to fudge your handicap.