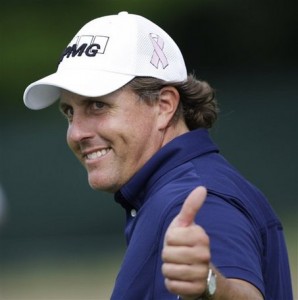 Those entering the World Golf Hallof Fame Monday night arecertainly deserving; iconic golf scribe Dan Jenkins, LPGA veteran Hollis Stacy, two time major winner Sandy Lyle, Peter Alliss who moved from winning tournaments to being the voice of golf…and of course PhilMickelson.
Mickelson among his contemporaries has the most wins on Tour (40) after Tiger Woods with his run beginning at the 1991 Northern Telecom Open as a junior amateur atArizonaStateand thelatest at this years' AT&T Pebble Beach NationalPro-Am. His college career was outstanding: the onlyleft-handed U.S. Amateur Champion, one of four to win NCAA Championship and U.S. Amateur in same year and among the shortlist of four players who were four time first-team All-Americans.
His four major championships (2004, 2006 and 2010 Masters and the 2005PGAChampionship) thrilled millions plus he has won overseas three times. Additionally he has represented theUnited Statesnine times as a member of the President's Cup team and eight times on the Ryder Cup team.
Lefty as his fans affectionately callhim was elected to the Hallthe first year he became eligible, after his 10th year on TOUR in 2003 and turning 40last year.
A remarkable and Hallof Fame deserving career no doubt.
He's an avid pilot and with wife Amy is dedicated to their three children and various charitable works including the SpecialOperations Warrior Foundation, Homes for Our Troops and Birdies for the Brave along with the Philand Amy Mickelson Foundation.
But allthat is not what this column is about – the best reason for honoring Mickelson with induction into the World Golf Hallof Fame is he exemplifies the best of the traditions of golf – honesty, sportsmanship and competitive spirit.
Stories of his taking time to sign fans autographs after rounds arelegion. He smiles, waves and interacts with the crowd even during tournament rounds and then of course there's his thrilling way of attacking the golf course. Some might say on occasions too thrilling but Lefty plays to win not for second with a slashing unorthodox swing and go-for-broke style.
Reminds one of another World Golf Hallof Fame member named Arnold Pallmer doesn't it ?