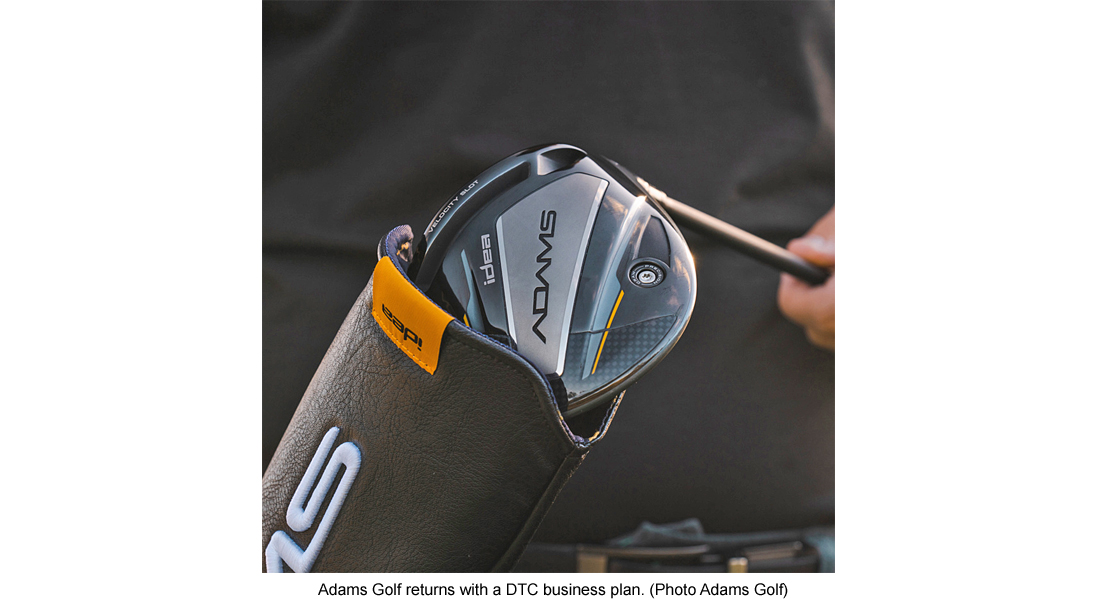 The selling of golf clubs and balls is a predictable process, at least for the major manufacturers. Though each spends millions for endorsement by professional tour stars marketing plans usually place emphasis on where the company feels they have an advantage—for example, Callaway Golf's Paradym drivers or Acushnet Company's Titleist golf balls.
A key for the big manufacturers to pushing club and ball sales is establishing relationships with the so-called green grass shops found at every golf course and run by a PGA Professionals plus off-course vendors especially big box multiple location retailers while promoting online sales through their own websites and sites run by independents.
Adams Golf, which had all but disappeared after TaylorMade's purchase in 2012 for $70 million, is taking a different route to re-establish itself with golfers. They have introduced a club family under the Idea brand name which is being sold DTC only from its website…no green-grass, no big box, no brick and mortar.
Of course, smaller, niche-focused makers sell online but often offer only a limited selection, perhaps just putters or balls. None of the major brands have opted to enter the market with a separate brand and then sell only DTC. For example, Callaway has the Big Bertha family and Tour Edge Golf the Hot Launch line, but neither is sold solely over the Internet.
To add to the attractiveness Adams/TaylorMade has decided to price the Idea clubs at the lower end of the current price spectrum with shaft selection limited to a single stock model though options of steel or graphite are offered in the irons. An Adams Idea driver, a fairway wood, two hybrids and seven irons may be purchased for just about $1500 while the latest from parent TaylorMade, a Stealth 2 driver, one fairway wood and two hybrids lists cost approximately the same amount and that doesn't include the Stealth irons which could be another $1000. Adams ships at no cost for orders over $99.
An interesting business plan, TaylorMade creating in-house competition. Not unheard of in retail but always to be approached with a complete understanding of how the main, money-making brand will be affected when faced with a lower priced rival offering presumably the same quality though it could be argued performance may be significantly different. The company certainly believes that for a generation of consumers familiar with online purchasing, golf clubs on the web without a potentially intimidating store visit is worth the investment.
Adams Golf was started by Barney Adams in 1991 and his Tight Lies hybrid design changed hybrids forever with its innovative Tri-Sole that helped average players get the ball out of most any lie, long grass or even sand.
The Idea line can boast some of the latest design features and though they may not be as sophisticated as the TaylorMade Stealth still are attractive for use by new golfers and those returning to the game. For example, the draw-bias Idea driver has a carbon fiber crown, an adjustable hosel and sole slot while the cavity back irons are a hollow body construction with a variable thickness face.
In other words, many of the same talking points as any of the major makers competing clubs. The question is can TaylorMade revive Adams Golf with this one-of approach or will Adams slip back into obscurity.