A panel of prominent industry insiders shared the opinion the golf industry is getting healthier with a brighter future than it has had in recent years. Taking place on the opening day of the PGA Merchandise Show in Orlando the "State of the Industry" discussion is an annual part of the week's events.
Moderated by the Golf Channel's Damon Hack, panel members were: World Golf Hall of Fame member Annika Sorenstam, TaylorMade-adidas CEO Mark King, PGA of America president Ted Bishop, Golf Channel president Mike McCarley, retired USGA Executive Director David Fay and golf course developer Donald Trump.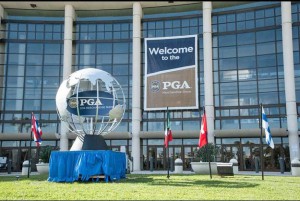 A broad range of topics were discussed with the PGA's Bishop pointing out, "I feel like golf has started to turn the corner and I think this is the best place that the game has been in for a while." He referenced particularly the many programs sponsored by the PGA and USGA aimed at retaining present players and attracting new ones. More players means more revenue for golf courses but also impacts sales of equipment with corresponding benefits to allied business such as travel and real estate. Trump, ever the promoter and the owner of 15 golf facilities in the US and abroad, said the best way to attract golfers was to have courses in great locations.
Sorenstam, who received the 2013 PGA First Lady of Golf award, likes what she sees going on in the industry and, "being a mom and a businesswoman, I really want to give back to golf. Coming here (to the PGA Merchandise Show), you feel a sense of excitement."
TMaG's King also noted there is again a certain amount of "buzz" not only on the Show floor but in the industry as new golfers come to the game. "How do we bring in kids, how do we get women to play, how do we get minorities to play, how do we touch people on the fringe, that have an interest in golf and how do we get those people to be interested in our game?" said King. "I think there's more conversation now than there ever has been and I think that's a big positive."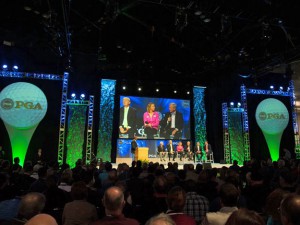 King pointed out making changes in golf is not something that can be done quickly since golf being an ancient, structured game has a built-in traditionalism. "Our industry has been controlled by traditions and the protocol of how you play the game, and people who have been attracted to it for generations, have loved that," said King, who is the driving force behind the launch of HackGolf.org, a digital platform for consumers to express ways that the game can be improved. "We have to start to experiment with new freedoms and the expression of an individual. And when we can get there, then we'll see the game grow."
McCarley made the point the increase Golf Channel viewership puts his business at the front of efforts to grow the game. "There's been a lot of growth at Golf Channel the last three years," said McCarley. "There's been a real focus on quality, and with that growth and with that focus on quality, come a real responsibility. When you have a larger voice in the game, and as your voice grows, we have a responsibility to do what's best for the game."
Perhaps the most sensitive and certainly controversial topic was the recommendation by some including Jack Nicklaus the Rules of Golf be changed to mandate a decrease in golf ball performance.
"I think rolling back the ball would be a disaster," Trump quickly pointed out. "You don't want to make the game harder than it already is. That's not a good thing for golf. I think you'll lose players."
Sorenstam said such changes had to take into account the effect on golf's growth. "We've got to look at all the golfers around the world. As a professional golfer, I see both sides. We do this for a living, so it needs to be fair, it needs to be right." But the winner of 10 majors went on and put it even more strongly, "When you talk about rolling the ball back, I'm not for it. The game needs to be fun. The more putts we make, the quicker we play. Pace of play is something I stand for and I think that's something we also need to address."
Moving on to the Olympics in 2016 Fay, during his tenure running the USGA, was involved with the efforts to make golf an Olympic sport and is enthusiastic over at last gaining the recognition, "because, candidly, every other meaningful sport is in the Olympics. So, in terms of promoting the game globally, Olympic golf is going to be a very good thing."