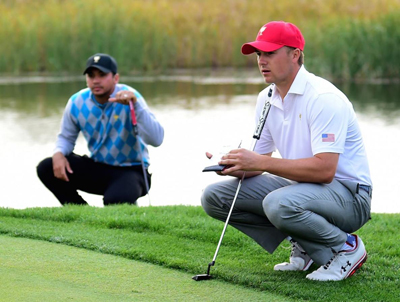 I was on my second cup of coffee when my computer beeped informing me another press release had hit my inbox. The title was "Jason Day takes over as world's top ranked golfer."
What? Neither Day nor Spieth played this past week but because of the calculation used to determine spots on the Official World Golf Ranking (OWGR) sponsored by all the major men's professional tours around the world, Day "leapt" ahead by 0.0272 points with a total of 12.4235.
Day had a great year no doubt with six wins including the PGA but Jordan Spieth had a career-highlight year winning five times including the U.S. Open and Masters plus a second behind Day at the PGA, a T4 at the Open and was a member of the U.S. Team that won the President's Cup over Day's Internationals.
Want some more? Spieth was number one in the FedCup standings, won the FedCup and $22 million making him the highest earner ever on Tour and of course he was voted unanimously as Player of the Year. All this and he's 22 years of age contrasting with his "old man" rival Day whose coming birthday in November will be 28.
The OWGR may be a wonderful mathematical exercise in performance statistical analysis but lacks credibility with fans and therefore misses the mark. How can a system that deservedly puts Tiger Woods at number one for 683 weeks (that's over 13 years) change number ones when the players don't play as was the case this time?
World ranking determines invitations to some tournaments plus who gets to play in exhibitions for appearance fees coupled with endorsement contracts that easily run into the millions.
However, the biggest reason to fix the Official World Golf Rankings system is credibility with fans because if the fans don't understand how it's done there's little chance it will be believed.
To accomplish this, there's no question there are problems. For example–simple question – does anyone think Jason Day is "better" than Jordan Spieth? Tough call for sure. Or how about yesterday's Frys.com winner Emiliano Grillo earning almost four times the number of points Matt Kuchar did for taking the Fiji International. Kuchar moved to 13th in the world while Grillo went from 72 to 36. The quality of the field certainly figures into it but such are the complexities and judgements one has to face if rankings are done.
Fan understanding of the calculation makes all the difference and right now most PGA Tour players can't explain the FedEx Cup points system much less the OWGR calculation.
Photo courtesy of Jordan Spieth & the Presidents Cup