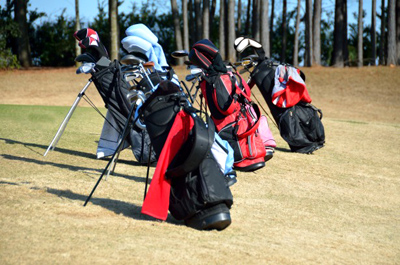 There's no question golf is a lot of fun but it's equally true the game is even more fun when we score better. Aside from receiving the "Master of the Obvious" award this simple statement reveals a deeper truth.
Golfers know if they hit the ball better they could score lower but most don't know very much about the golf swing. Oh, they think they do as in, "head down, left arm straight, swing slow" but not only are many common ideas wrong, they may actually work against having a good swing. An example is playing with clubs that don't suit their ability which generally means shafts that are too stiff and club heads with a microscopic sweet sport meant for touring pros.
And, on top of everything else, golfers add the "sin" of not getting instruction from a PGA Professional so in effect they are making a difficult game even more difficult. Golf is frustrating enough so why make it more frustrating on purpose?
One advantage of modern instruction is the ready availability of computer swing analysis and club fitting software in use by professionals from national top 50 teachers to the instructors at the local municipal course.
To get a feeling about the its use for teaching and club fitting, we asked two respected PGA Professionals their views. The first was David Moore, the Director of Golf at Walt Disney World's three courses outside Orlando, Fla. and the second was Kay McMahon, a member of the LPGA Teaching & Club Pro Hall of Fame and a PGA Professional based in Lenox, Mass.
Kicking off the discussion we posed, does computer swing analysis help low handicap players more than higher handicap players?
McMahon responded: "Computer swing analysis could and should be a must for all players – new to low handicap players. The visual feedback is extraordinary for two reasons. First for the lower handicap player – the perception of what one is doing versus the reality check of what one is really doing is an eye opening experience. Perception and reality don't always meet. Secondly, for all levels of players, the before and after pictures can be dramatic and remarkably shows and proves that changes are and can being made."
Moore said, "Computer swing analysis will help all golfers with the exception of beginners. Beginners can look at a good golf swing to understand what they are to work on. Once a golfer understands the fundamentals of the golf swing, seeing their golf swing can only help them understand the golf swing AND with modern technology we can put up the perfect swing, against their golf swing to show the golfer where they should be. Listening to an instructor is good however when a person see's their own swing it really helps to understand their golf swing much better and to see what they need to work.
Then we asked: Should average players (10+ handicap) wait until after a series of lessons before doing a club fitting?
Moore: "To proper fit a person for custom golf clubs the most important factor is to have the golf swing consistent. Ideally a golf swing that reproduces will give the fitter a better idea of what the golfer needs. Shaft flex and the lie of the golf club are the 2 most important factors in club fitting. If a golf club is not properly fit for lie and it is 1 degree off – it could vary the flight of the golf ball up to 10 yards. The more serious of a player you are custom fit golf clubs are the way to go. As for the higher handicap that feels they cannot improve or do not want to improve, can certainly get club fitted, however will be limited to what a fitter can do. Normally the higher handicaps tend to be hitting the wrong shaft flex. A fitter will be able to identify this and certainly help the golfer with the correct recommended shaft flex.
McMahon: "Clubfitting and lessons should go hand in hand. One of the best examples, would be if I gave you a pair of shoes that were either too big or too small, you have not lost your ability to walk, but you most certainly would change how you walked. Clubs, as well as lessons, can make a difference.
She continued, "My best advice for the average player would be to take lessons asking for the golf professional's advice. The overall general factors of length, shaft flex and weight, grip size, and club head design need to be a consideration. Having the right clubs, can most definitely alter, either by improving or detracting from one's swing and desired ball flight. Clubfitting can be a simple matter of changing a grip size to a comprehensive computer generated clubfitting session and will vary on the individual's goals and needs."
The idea of getting help, professional computer-based analysis, is not new nor is it expensive—a entire series of lessons can be much less than the cost of a new driver—and combined with clubs matched to your swing means better shots, lower scores and more fun.