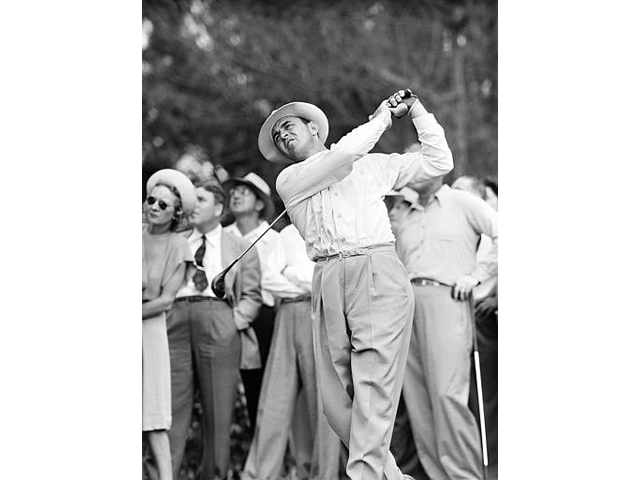 Sam Snead—Slammin' Sammy—golfing legend, multiple major winner, Hall of Fame member and holder of the record for most wins on the PGA Tour with 82. And there's another little known distinction in Snead's distinctive career.
Sam Snead is the only man to ever post a victory on the LPGA Tour.
Back in February 1962, for the second year in a row, Snead teed it up against 14 of the best female professional golfers in the Royal Poinciana Invitational, a sanctioned LPGA Tour event held on the Palm Beach Par 3 Golf Club.
Yes, that's correct a par-3 course and an official stop on the 12-year-old LPGA Tour. The players competing included all-time greats Louise Suggs (who beat Snead for the title in 1961), Mickey Wright, Betsy Rawls and Kathy Whitworth. Wright finished second by five shots to Snead's score of 211 (52, 53, 53, 53) for four rounds played over two days.
Said Snead, quoted in an article by Dick Taylor in the Palm Beach Post of February 8, 1962, "I decided to play just as steady as I could, and let the girls make the mistakes. You can't 'go to the whip' with them as you can on the men's tour." Comments that obviously wouldn't withstand today's frantic politically correct scrutiny.
After losing the previous year's event by two strokes to future Hall of Famer Suggs, Snead had to take a lot of teasing even though it was a 54 hole event and had 11 other male professionals in the field including Bobby Cruickshank, Gardner Dickinson and Lew Worsham. Typical of the times, press reports were vague as to the amount of the winner's check Snead took home but it was "in the neighborhood of $1,500."