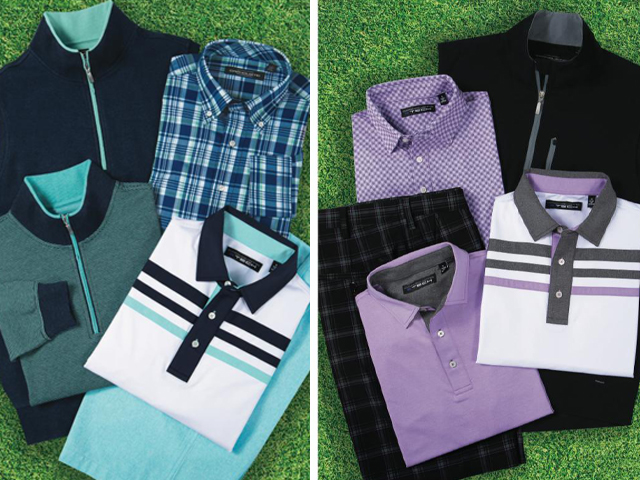 If you dress with style and comfort it may not cut strokes off your handicap but you'll look good whatever your score. Performance fabrics are a big part of staying warm or dry or both and we found some great examples by Carnoustie Sportswear for spring starting with their performance outerwear.
Great workmanship and high quality micro-poly fabrics combined with distinctive styling such as a chest stripe vest and shoulder stripe ¼-zip pullover make Carnoustie outerwear just right for challenging weather conditions.
Carnoustie points out their waterproof garments are ideal for the gale force winds and rain such as happens sometimes at the Open Championship. They are made from fabric woven specifically to keep out the rain and all have colorful taped seams to make them standout in a world of drab colors made of heavier material. Since all Carnoustie waterproof pieces are lightweight and colorful they are ideal pairings for their line of knit shirts, stylish slacks or when layered over other outerwear pieces.
We especially like the Vardon collection of cotton interlock outerwear. They "play" year round because they are the right weight with knit detailing and are offered in a long sleeve, a quarter-zip vest or regular vest in a variety of colors.
Also new for this spring is color block style of a combination of mélange fabric with an awning stripe fabric giving both a great look and one that stands out from the crowd. The new performance collection has a mini floral print that trendy, smart and colorful for wear the entire season.
Finally, a beautifully simple jacquard pattern introduces a classic look seldom seen a performance line while giving all of the performance feature a golfers wants. Carnoustie tells me that in fact, all of their performance styles include moisture management properties, stretchable comfort, odor management and UV protection.
Of course, Carnoustie's Spring '17 collection also still includes the cotton knits, cotton woven sport shirts, worsted trousers, cotton and performance shorts all of which are typical of the items on which they have built their reputation over the past 20 years.