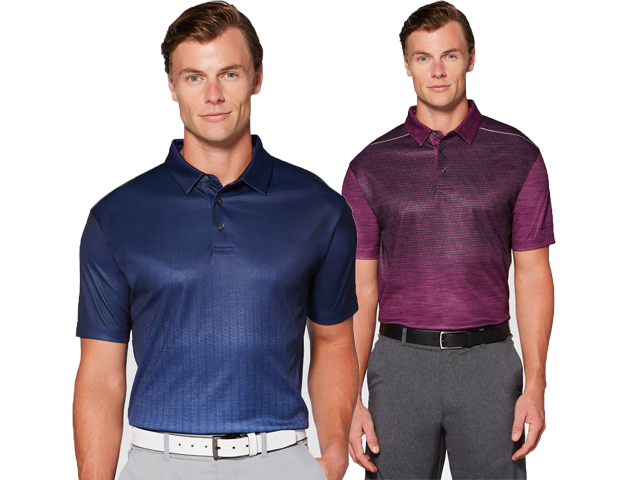 Jack Nicklaus is a golf legend and though many golfers today have never seen the Golden Bear play much less play at his best, the stories of his mastery on and off the course live on. You also can bet when he lends his name to a product, the product is special.
That's the case with the latest Nicklaus Collection from Jack Nicklaus Apparel, a brand of Perry Ellis International.
The polos of the Collection have stylish patterns with construction of quality lightweight fabrics that have all the features you want including effective moisture wicking. They call it "StayDri" and its true perspiration management allowing air to circulate in the lightweight fabric. Each polo has UV ray protection and uses ventilated fabric plus their idea of "StayMotion" is exceptionally worthwhile. StayMotion allows seams to give a little providing a fuller range of motion without binding during the swing.
We especially liked the Textured Ombre polo that transitions from dark to light, top to bottom with graded shapes running in offset vertical lines. This one is perfect for a round of golf or around the club and you will like the price as well since all Nicklaus Collection polos are $24.99.
Shorts in the Nicklaus Collection look good on and off the course with StayDri and UV protection too plus StayMotion Plus which provides all around stretch for comfort and flexibility. Their four-pocket design has what Perry Ellis calls a "media pocket" but what I call a "smartphone pocket" and it's a nice extra particularly if you are use your smartphone GPS rangefinder app. Nicklaus Collection shorts don't have front pleats so they have a nice trim appearance with classic style and each is made from a blend of Spandex and polyester meaning they are easy to care for and don't require ironing.
As far as colors are concerned, let's face it most shorts are dull or if not dull commonplace and after all, how many of pairs khaki shorts can you own? The Textured Printed Golf Shorts in Caviar and Black from the Nicklaus Collection are a refreshing change from all that sameness. The print is a subtle pattern of unconnected horizontal stripes and can be worn with lots of different color shirts for a distinctive, winning look. Pricing of the shorts in the Collection is also a pocketbook-friendly $29.99.