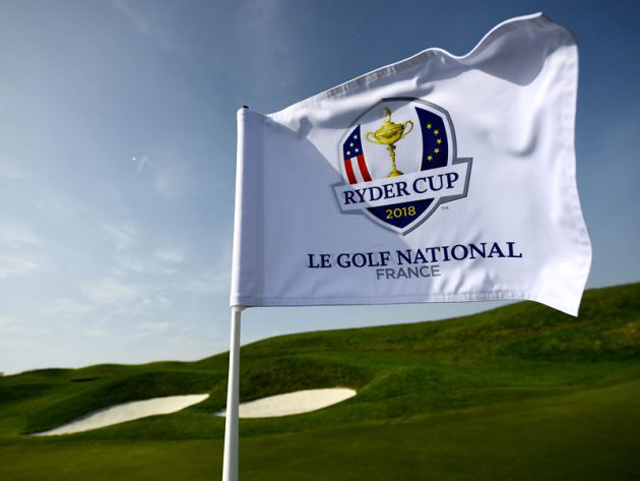 Ok, the real hype can begin now U.S. Ryder Cup team Captain Jim Furyk has made three selections leaving one pick which he will reveal that on Sept. 24. European team leader Thomas Bjorn picks Wednesday completed his roster so let's take a look at the two squads and make a guess who will prevail at Le Golf National outside Paris.
Team Europe is complete: Paul Casey, Tommy Fleetwood, Sergio Garcia, Tyrrell Hatton, Rory McIlroy, Francesco Molinari, Alex Noren, Thorbjorn Olesen, Ian Poulter, Jon Rahm, Justin Rose and Henrik Stenson.
Team USA: Bryson DeChambeau, Rickie Fowler, Dustin Johnson, Brooks Koepka, Phil Mickelson, Patrick Reed, Webb Simpson, Jordan Spieth, Justin Thomas, Bubba Watson and Tiger Woods. That's only eleven with a player to be named later, in two weeks but let's assume Tony Finau gets the nod.
It's best to have some backup to rationalize any guess as to the winner and longtime observers know Ryder Cups comes down to a simple formula. Sinking putts plus making birdies equals taking home Samuel Ryder's trophy.
We looked at strokes gained putting rank and birdies per round rank for PGA Tour events this season. However, several of the European Team members don't play fulltime here so European Tour results were also researched and the best ranking used. As an example, Fleetwood is number 193 in SGP on the European Tour and number 77 on the PGA Tour so his PGA Tour rank was used.
That analysis shows the U.S. Team has a clear and significant advantage in both strokes gained putting as well as birdies made per round.
Moving on to a different measurement and though some feel the Official World Golf Rankings are flawed they do give an idea of how players stack up and again show the U.S. with at least some advantage. The top three in the OWGR are Americans (Johnson, Koepka, Thomas) with the lowest ranking being Woods at 26. The Euros can claim the 4, 5 and 6 spots (Rose, Rahm, Molinari) but they have two at 30 or over (Garcia and Poulter).
Who is currently playing well is also a huge factor and since the British Open won by Molinari no Euro team member has won on the PGA Tour. The best finish is a second by Justin Rose at the Dell Technologies Championship.
Other indications of the potential for the U.S. to dominant include that since Sergio Garcia won the 2017 Masters, Americans have won six of the seven majors played with Koepka taking three of them. The strongest competition is on the PGA Tour and to win, much less win repeatedly, is a perfect indicator for the strength of either side. There's no question Team USA is tops by any objective measurement.
But what about subjective measurements such as heart, desire, maturity and reaction to pressure? Difficult if not impossible to quantify but anecdotally Mickelson is playing on his 12th team and not one of them won at a European venue. Lefty very much wants to correct that, has said so in public and will not hesitate to tell his teammates…probably several times how important a win in France will be to wipe away the blemish of over the pond losses going back to 1993.
Part of any consideration has to be the role rookies will play for each team and the Euros have five (Fleetwood, Hatton, Noren, Olesen and Rahm) while the U.S. has three (DeChambeau, Simpson and Thomas). DeChambeau after back to back FedExCup playoff wins is the hottest player on the planet will be a positive with whoever he is partnered. Simpson won The Players Championship and has a T-2 last month at the Wyndham Championship plus shot a 63 in the third round of the Dell Technologies last week. Thomas should perform well too with three wins this season, spending four weeks atop the OWGR and most recently a win at the WGC Bridgestone Invitational in August.
The questions on the European squad not only include their rookies but the inclusion of Garcia by Bjorn. The fiery Spaniard has had a miserable 18 months since his Augusta win and nothing seen lately would make one think that was going to change.
And that brings us to the wild card factor at this Ryder Cup. For the first time U.S. players will be faced with not just partisan crowds but a whole sports culture exemplified by international tennis, soccer and cycling but certainly not golf. It most likely things won't become too ugly, but we could see something similar done such as the baiting by U.S. fans in the past of European stalwarts Garcia and Colin Montgomery. It will be a tough experience for U.S. players.
At the end of July, I wrote the early call was a U.S. win 16 to 12. That prediction hasn't changed except the effect of the European fans wasn't sufficiently factored in. So, though there is no way Team USA can lose the final score is now guesstimated to be 15 ½ to 12 ½ for Europe.