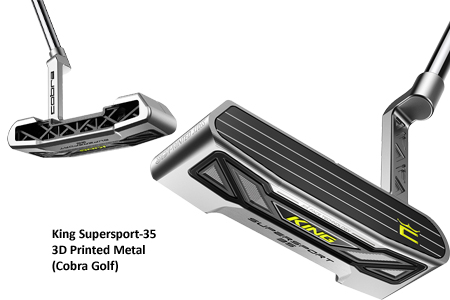 Cobra Golf again breaks new ground with introduction of the limited-edition King Supersport-35 putter, the first golf club manufactured by 3D metal printing.
Fast Facts:
Limited edition oversized blade putter
3D printed 316 stainless steel body
Internal lattice to distribute head mass
Plumber's neck hosel & 35° toe hang
Aluminum face insert with SIK Golf descending loft
34 inch length—right hand only
Stock grip: Lamkin Sinkfit Smart Grip with Cobra Connect
Available CobraGolf.com Nov. 20, 2020 $399
WYNTK:
Cobra has leapt forward in the field of golf club manufacturing with the introduction of a clubhead made using 3D metal printing developed in cooperation with HP Metal Jet a division of HP Inc. The King Supersport-35 putter is the first golf club ever to be made using this cutting-edge industrial process known to produce quality parts.
Inside the putter head 3D printing allowed the formation of a latticework of metal taking mass from the center head to be relocated to the perimeter giving, according to Cobra, "the highest MOI without the need for additional fixed weights." MOI is a measurement of a putter's resistance to twisting at impact and Supersport-35s open design is not possible by casting or forging of heads, the usual way putter heads are made.
The aluminum face insert is also a step forward and makes use of SIK Golf's patented variable loft (4° top to 1° bottom) so even when putter is slightly delofted at impact there is still sufficient loft to give proper roll.
HP Metal Jet 3D printing uses layers of metal powder with a chemical binder sequentially applied by the print head in the shape of the part being made. The layers are then sintered at a high temperature creating the printed shape, excess powder removed, and final finishing is accomplished by CNC milling to leave a polished surface.
"At Cobra Golf we strive to deliver high-performance products that help golfers of all levels play their best and enjoy the game," said Jose Miraflor, Vice President of Marketing. "To do that, it's critical to use the most effective manufacturing processes to design, develop, and achieve optimal results, and we've certainly done that with this new putter. To continue innovating and transforming the way equipment is manufactured, we worked with HP and Parmatech to take advantage of the benefits of Metal Jet technology. During the development of the KING Supersport-35 Putter, we saw immediate benefits from this process, including design freedom, rapid design iteration, and high-quality parts that meet our economic demands. 3D printing is accelerating design innovation, and this breakthrough putter will help usher in a new era for the sporting equipment industry at large."
Significantly, it would seem from comments made by the company we can look for other Cobra clubs to be manufactured using 3D printing in the near future.