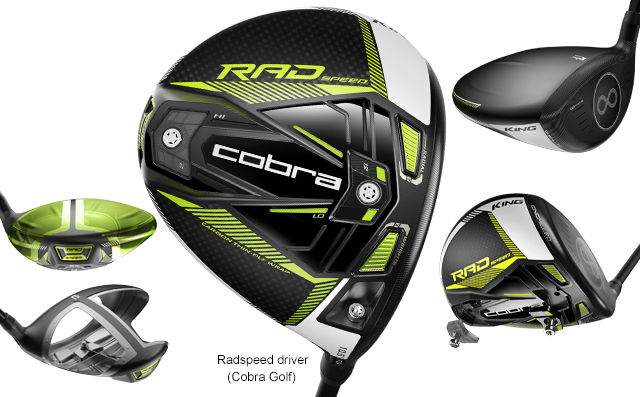 Cobra Golf's Radspeed family of woods use newly designed radial placement of internal weighting for low spin and high forgiveness in three drivers, four fairway woods and two hybrids.
Fast Facts Radspeed drivers:
460cc clubhead
Carbon fiber crown
T-bar chassis
CNC milled wrap around face
Adjustable hosel
Cobra Connect by Arccos
Color choices: black/Turbo yellow, Peacoat blue/red
Radspeed Standard: 28 grams front weighting, 10 grams rear
Radspeed XB: 8 grams front weighting, 20 grams rear
Radspeed XD: 8 grams front weighting, 14 grams rear, 10 grams heel
Stock shafts: Fujikura Motore X F3, Project X HZRDUS RDX Blue, Fujikura Motore X F1
Stock grip: Lamkin Crossline
Suggested retail for each $449. Full specifications on Cobra website
Available January 29, 2021
WYNTK:
The concept for the Radspeed line of woods came from Cobra designers deciding to relook at the various elements in a clubhead such as internal weights and calculating something called the radius of gyration. For those of us lacking engineering degrees the radius of gyration is the distance from the clubhead's center of gravity to the location of each weight mass. Cobra R&D saw this measurement was the key coming up with an effective blend of high ball speed, low spin, forgiveness, and launch angle calculating both the proper amount of weight and where it should be placed.
Basically, the solution was to push the front and rear weights as far apart as possible thereby increasing the distance between them. Cobra calls this "Radial Weighting" which makes the name Radspeed a natural.
"Our new Radspeed drivers represent a true breakthrough in performance," said Tom Olsavsky, vice president of R&D. "Our engineers have outdone themselves by pushing the Radius of Gyration to new levels and delivering three distinct drivers aimed at three different types of golfers. With the Radspeed driver family, COBRA can truly offer optimized performance for everyone from Tour players to weekend warriors and those who need help correcting a slice."
Clubmakers know for reduced spin which can result in added distance there needs to be weight close to the face but that can produce lower ball launch which hurts carry distance. Other factors such as face loft being the same, higher launch is achieved by placing more weight in the rear of the clubhead which tends to increase the amount of spin so each maker tries to balance the amount of weight and its placement to give the proper spin, launch angle and carry distance for the most yards..
Cobra's Radial Weighting approach is an innovative way to keep the launch angle in the correct "window" while retaining lower spin rates.
Three Radspeed driver variations are available. Each has an internal T-bar frame lighter by 7 grams than in last year's SpeedZone driver and a 30% thinner carbon fiber crown that extends over the skirt replacing sections of the sole with a saving of another 6 grams. The CNC milled "Infinity Face" wraps around the front of the crown and leading edge of the sole as well as up the hosel, a construction Cobra says enlarges the area that will produce maximum ball speed.
The weight saving from the crown and frame enabled reallocation of mass close to the face and to the extreme rear of the head so launch and spin could be adjusted to compensate for the needs of different players.
The standard Radspeed puts 28 grams of weight near the front (16 grams fixed, 12 grams adjustable) and 10 grams in the rear (8 grams fixed, 2 grams adjustable). This is a better-player driver since it produces low spin with a somewhat lower launch and allows the most workability.
The Radspeed XB ("Xtreme Back) is weighted to have the most forgiveness with 20 grams (14 grams fixed, 6 grams adjustable) in the rear and 8 grams (fixed) in front. Cobra tells me this is a very stable driver and the most forgiving they have ever made. Lastly is the Radspeed XD ("Xtreme Draw") for those needing help in straightening out their left to right slice. Unlike other anti-slice drivers there is no extra offset of shaft to head giving it a confidence-building look at address. Weighting is very draw-biased with 10 grams near the heel and 14 grams in the rear for higher launch, more forgiveness plus additional ball speed from 8 grams in the front.
Radspeed fairway woods ($279 each) and Radspeed hybrids ($229 each) have similar constructions using the radial weighting concept. We were impressed that Cobra for the first time was able to make use of a CNC milled face for the standard Radspeed fairway wood and the hybrids continue to use the hollow split rails on the sole, a valuable performance feature used for years in previous Cobra hybrids. One Length fans will appreciate this new family includes four One Length hybrids with lofts from 17° to 24°.