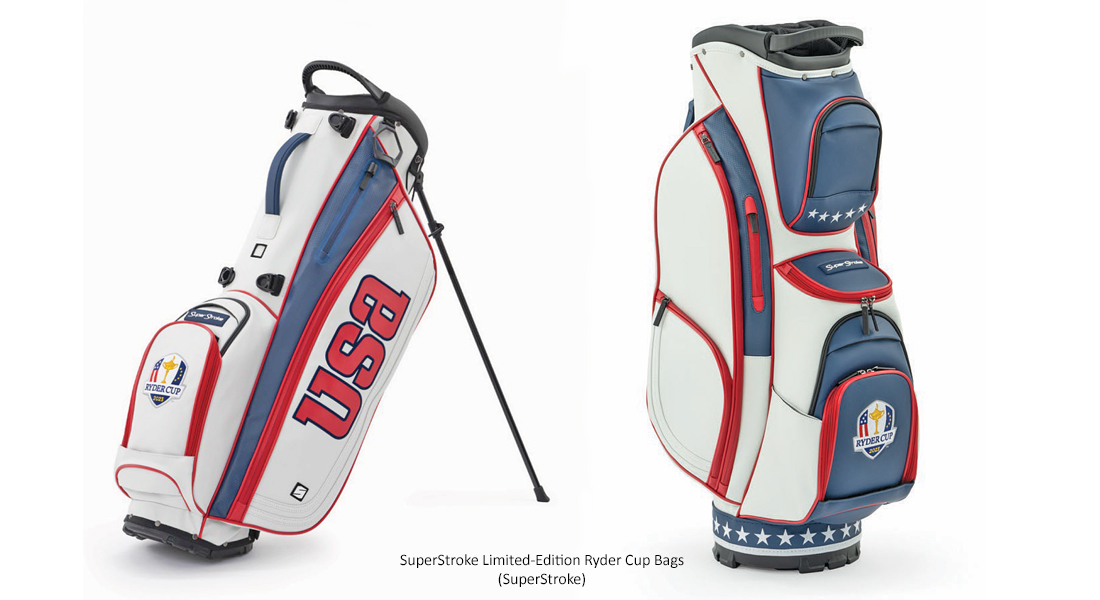 Grip manufacturer SuperStroke has added an addition to their lineup, two golf bags–a limited-edition carry/stand bag and cart bag both in Ryder Cup USA theme colors.
Fast Facts
SuperStroke Ryder Cup USA Carry/stand bag
Synthetic leather construction
Dual strap
4-way top
Full length dividers
Fiberglass legs
Waterproof valuables pocket
Magnetic closure rangefinder pocket
Apparel pocket
Weight: 5.85 lbs.
Retail $349
SuperStroke Ryder Cup USA Cart Bag
Synthetic leather construction
Single strap
14-way top
Waterproof valuables pocket
Two magnetic closure pockets
Apparel pocket
Weight: 6.6 lbs.
Retail $399
WYNTK
Say "SuperStroke" and most will immediately think of the company's putter grips that seem to be everywhere including the professional tours, in fact the company says seven of the 12 players on the USA Ryder Cup team use them.
With each of the two new bags SuperStroke is including a limited-edition Ryder Cup Pistol 1.0 putter grip with each of the bags…a nice bonus which retails by itself for $34.99.
SuperStroke CEO Dean Dingman referring to the new bags said, "The SuperStroke Ryder Cup Carry and Stand Bags are brilliantly designed statement pieces with all the latest premium features you'd expect from a luxury golf bag. If consumer demand echoes the reaction of everyone who has seen these bags so far, these limited-edition bags won't stay in stock long."