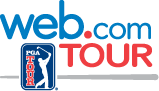 Nationwide Insurance is out and Web.com (NASDAQ:WWWW) is in as title sponsors of the PGA Tour's 'developmental' tour. The 10-year agreement is effective with this weeks' United Leasing Championship at Victoria National Golf Club outside Evansville, Ind.
The significance (besides having to change all the signs, logos, etc.) is the Web.com Tour next year will be part of a major revision of how players earn status on the PGA Tour. The top 50 finishers of the fall 2013 three tournament series will receive playing privileges for 2014 on the PGA Tour. To be able to compete in the series, which for all intents and purposes replaces the present Qualifying School, a player must be in the top 75 money winners on the Web.com Tour or among the 75 highest finishing PGA Tour members who did not qualify for the FedEx Cup playoffs.
Up until next year Web.com Tour members earn a PGA Tour card if they are in the top 25 money winners.
This new deal would seem to resolve the last of the PGA Tour's concerns over future revenues. Last fall they signed an agreement with NBC Sports and CBS Sports good for broadcast rights and revenue through 2021 and in February FedEx resigned as sponsor of the year long FedEx Cup bonus pool. 
Web.com CEO David Brown took the Jacksonville, Fla. company public in 2005 and since has grown from $30 million in sales to $500 million. They provide web services to small and medium sized businesses and have over 3 million customers. Nationwide Insurance had been the tour's sponsor since 2003. The tour began in 1990 as the Hogan Tour, changed to the Nike Tour and then in 2000 Nationwide began title sponsor.