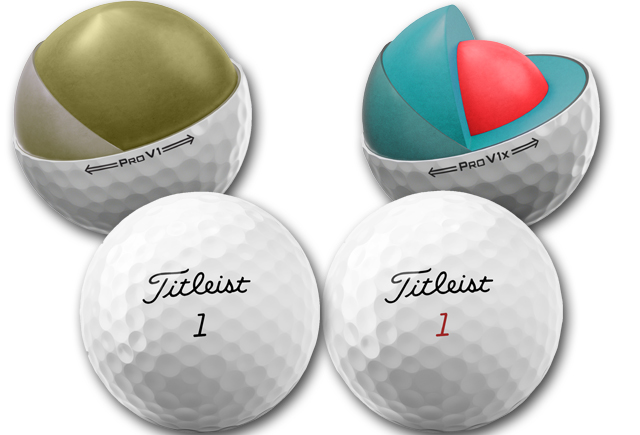 Titleist has updated their bestselling Pro V1 and Pro V1x and the most played balls on every professional tour with redesigned aerodynamic dynamic dimples plus a new core, casing and cover for increased distance, softer feel and more control.
Fast Facts
Titleist Pro V1
3-piece premium category ball
New urethane cover formula
388 dimples
Softer feel, lower trajectory, lower spin vs. Pro V1x
Reformulated core
White or yellow
In shops January 27 $49.99
Titleist Pro V1x
4-piece premium category ball
New urethane cover formula
348 dimples
Firmer feel, higher trajectory, higher spin vs. Pro V1
Reformulated core
High flex ionomer casing
White or yellow
In shops January 27 $49.99
WYNTK:
Every two years when Acushnet comes out with new versions of the best-selling Titleist Pro V1/Pro V1x balls, which have come to be the standard of the industry, the problem is the same. Better performance using new materials, design, and manufacture. A tough job that their engineers seem to be accomplishing sometimes with unique updates that become new bars the competition must hurdle.
As experienced golfers know, and certainly better golfers like professionals know, the best scoring comes from not relying just on distance but playing a ball that can be controlled in trajectory and spin. The first is important, to get the most yards off the tee, but the second is to get the ball close to the pin. Pro V1 and Pro V1x have continued to fulfill these two, not exactly compatible, performance factors better than the competition.
The 2021 Pro V1 and Pro V1x, though using almost the same materials, have differences in flight, feel and spin with the Pro V1 being softer and lower flying while the Pro V1x is somewhat firmer in comparison and higher flying.
The story this year is the introduction of new dimple patterns for both. Acushnet tried 60 possibilities before settling on the pattern of 388-dimples for the Pro V1 plus 30 for the Pro V1x's 348 dimples. And for all you math majors the patterns are spherically tilled tetrahedrals. The cast urethane cover that also a new formula the company says helps spin on scoring shots around the green.