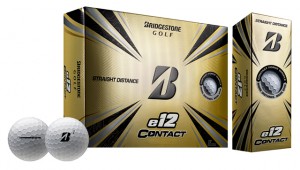 The e12 Contact from Bridgestone has a cover with a unique dimple shape featuring a raised center allowing more of the cover to contact the clubface at impact giving better transfer of energy to produce more distance and control.
Fast Facts Bridgestone e12 Contact golf balls
3-piece Surlyn cover
Contact Face dimple pattern
White and three color options
Available February 26, $29.99 per dozen
WYNTK:
Everyone knows to achieve the best performing ball requires features that produce both distance and control. Much of ball manufacturers attention has been on the materials and construction of the internal components, the core and mantle or mantles, but Bridgestone's new e12 Contact puts design emphasis on the dimples.
Just looking at the e12 Contact tells you something is different; the hexagonal dimples have a raised center. At impact this puts more of the cover in contact with the clubface which helps more of the swing's energy to be transferred to the ball.
Bridgestone says the change in the amount of cover contact is significant, 38% in fact compared with the usual dimple shape. This does some good things including more core compression for faster ball speed with less spin from the tee helping produce more yards. Additionally, it helps on full wedge shots to give about 600 rpm more spin and the company says this more like a cover that's part Surlyn and part urethane.
Elliot Mellow, Golf Ball Marketing Manager was quoted saying, "Bridgestone has long been a pioneer in bringing to market unique dimple shapes, sizes and constructions in the golf industry, but up until this point that has primarily been a means of achieving optimal aerodynamic performance. In the new e12 CONTACT, dimples actually serve as a source of increased power and distance as well. They also contribute to minimizing hooks and slices, making the newest e12 a golf ball that provides performance you can actually see in terms of straight distance."