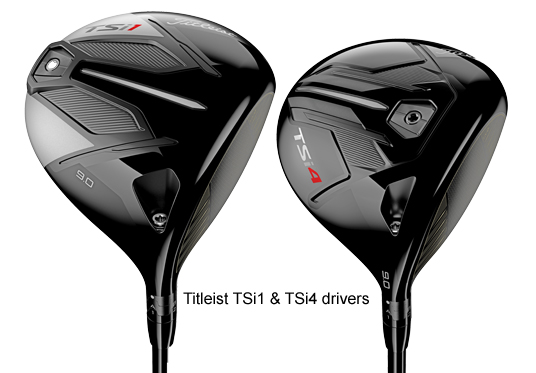 Titleist introduces the ultralight TSi1 driver for those with swing speeds less than 90 mph and the low-spin TSi4 driver for better players with faster swings.
Fast Facts
Titleist TSi1 Driver
460cc game-improvement category
Lightweight-40 grams less than standard
Draw bias
Thin titanium crown
ATI 425 Aerospace Titanium Face
Adjustable hosel
Stock shaft: Aldila Ascent
Stock grip: Golf Pride Tour Velvet 360 Flat Cap Lite
At retail February 26, $$549
Titleist TSi4 Driver
430cc better players category
Thin titanium crown
ATI 425 Aerospace Titanium Face
Low drag head shape
Adjustable hosel
Stock shafts: HZRDUS Smoke Yellow 60, TENSEI AV White RAW 65
Stock grip: Golf Pride TV 360 Gray Flat Cap 58R
At retail February 26, $549
WYNTK:
With the introduction of the TSi1 and TSi4 drivers Titleist completes the series begun with the two previous models, TSi2 and TSi3.
The TSi1 targets ladies, seniors, and others with a driver swing speed of less than 90 mph. It is a true ultralight coming in at roughly 270 grams or about 40 grams or less than most drivers. The goal is to provide a driver that players can swing faster and gain distance. The head construction helps produce a high launch, mid-spin drive with a decided bias right to left to counter a tendency to slice. Titleist says the high MOI of the head gives stability both heel to toe and vertically for more solid and straighter impacts.
"What I am most excited about, is the fact that this product absolutely takes Titleist speed to another level for the moderate speed player," said Stephanie Luttrell, Titleist Director of Metalwood Development. "Not only does it deliver incredible trajectory, but it also maximizes the ball speed. And with its lightweight configuration, all those golfers are going to experience greater consistency, as well as maximizing their club speed."
On the other hand, the TSi4 is designed for those with higher swing speeds needing a driver that produces less spin with a smaller more aerodynamic clubhead.
Luttrel was quoted, "The TSi4 fulfills the ultra-low spin product within our TSi lineup. "For those players that need aggressive spin reduction to improve their distance, we now have that product in the TSi lineup. In general, high spin comes from players that either come over the top, have a steep attack angle, or are adding significant loft at impact," said Luttrell. So, the TSi4 is not strictly reserved towards high speed players, but absolutely dedicated towards all golfers who require spin reduction in order to improve their distance by producing a longer, more piercing ball flight."
The TSi1 family also has fairway woods and hybrids built with lighter weight components complementing the driver. TSi1 fairway woods are almost 50 grams lighter than usual and come with either the Aldila Ascent 35 or 40 for $299. The hybrids offer a choice of Aldila Ascent 55 HY, 50 or 40 shafts and carrying a price tag of $279.