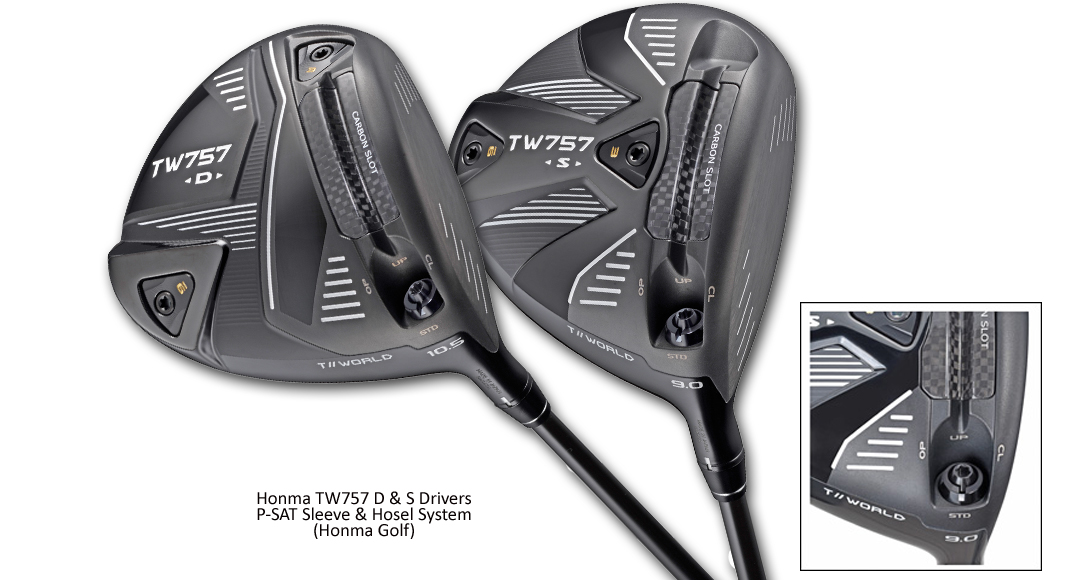 Honma Golf has announced two new TW757 drivers, the D, and the S, making use of a unique sole slot made with titanium reinforced using carbon fiber plus a non-rotational hosel sleeve to maintain shaft spine position.
Fast Facts Honma TW757 Drivers
Carbon fiber reinforced sole slot
Internal ribs in carbon fiber crown
Two sole weights stock 9- & 3-grams
Adjustable hosel loft +/- 1.0°
Adjustable face angle +/- 1.5°
Stock shaft: Honma Vizard 757
Available for pre-order $719
TW757 D driver
Game improvement category
460cc clubhead
Two sole weights–rear towards heel & toe
TW757 S driver
Better player category
450cc clubhead
Two sole weights—front & back
WYNTK
Both the TW757 D and TW757 S have Honma's Keel Sole that lowers the head's center of gravity while increasing the resistance to twisting but the more unique feature of these two new drivers is the hosel adjustment sleeve.
Called the P-Sat Adjustment System it allows both the loft and face angle to be changed without altering the shaft orientation. This means the shaft spine remains its original alignment while obtaining the most efficient ball trajectory.
The D model has a definite draw bias due to the rear 9 gram sole weight being closer to the heel while the S model's front and back sole weights have the heavier 9 gram weight in the front and lighter 3 gram weight in the rear to increase the tendency for a flatter, lower spin flight.
Optional sole weights (6-,12-, 15-grams) are available.
In both models the crown is reinforced by internal ribs to stiffen it and improve energy being transmitted to the variable thickness face.