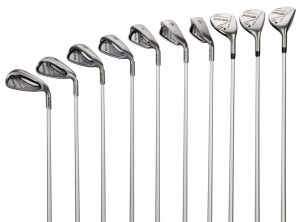 The new Karsten irons from Ping Golf are actually an integrated combo set of hybrids substituting for the long irons. This a great idea since the gapping between lofts then is not a matter of guess work by the user but a function of the best thinking of the manufacturer.
When they asked if I would be interested in including Karstens in this series of articles covering extended testing over 10 rounds I didn't hesitate, replying in the affirmative at once but with one stipulation. That being since this new model is in the game-improvement category they supply a set with specifications a typical purchaser might buy: 3- and 4-hybrids with irons for 5- through sand wedge in a regular flex shaft.
Karstens are the first combo set made by Ping since the 2011 model K15s and in case you hadn't picked up on it, named after company founder Karsten Solheim. Stainless heads with wide soles gives a confidence producing look at address and in particular the hybrids set up very well.
The first swing with the Karstens, second shot on the opening par-4 (I know, I know I should have been to the range ahead of time, but I arrived too late) called for an 8-iron slightly up hill 147-yards to a fairly flat green. The swing I made wasn't particularly great but the hit felt solid and the ball flew straight at the pin landing just on the front edge roughly 10-yards short of the pin. 
Obliviously I wasn't too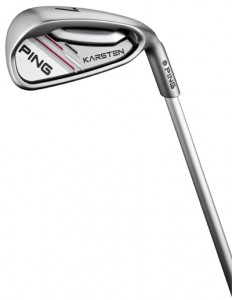 disappointed having gone from gone from parking lot to directly to the first tee. 
Subsequent play over 179 holes, the Karstens revealed two things. First they hit the ball high which is good especially for an iron designed for higher handicap players presumably with slower speeds who often have trouble getting the ball airborne. And from less than perfect lies—rough for example—they invariably got the ball out very easily and usually straight and as the old pro said, "Straight is good."
After a few rounds I stopped using a tee on par-3s since it wasn't needed. My swing speed is a little higher than the average players' and I generally am able to hit the ball on a descending path so making use of the irons' loft is not usually a problem. 
And speaking of lofts, Karstens follow the modern trend of stronger lofts than what used to be known as "traditional." For example the pitching wedge is 45 degrees which is 3 to 4 degrees less. This is partly in response to providing the user added distance but also because of today's golf balls which spin less and tend to fly lower. As far as the Karstens are concerned distance was almost identical to that of my "players" irons. That probably says more about the supposed distinctions between categories (game-improvement, max game-improvement, players) than an indictment of any particular iron…good or bad.
One final point, my usual ball is the Titleist Pro V1x. I used that for the first several rounds with the Karstens and was happy with the results. However, a friend gave me a sleeve of what is called a "distance" ball, i.e., 2-piece with Surlyn cover, and it worked just fine. The Karstens got it in the air as was expected but from inside 100-yards, even though the ball has a much harder cover than the Pro V1x and clearly didn't spin as much, control of the distance was fairly easy to achieve. 
I like the Karstens a lot and have already suggested them to a couple of players who asked my advice.
Image of Karsten-user Jacqui Concolino and product images courtesy of Ping Golf.