Today many manufacturers are making game improvement category irons by forging, a departure from the traditional cast clubheads we have come to associate with such irons. Formerly it was thought the soft feel of forged irons was for the professionals and better amateurs; that cast irons with bigger soles, large back cavities and in general a more complex shape could not provide the same feel.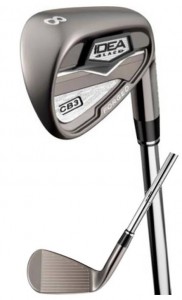 That's changed and Adams Golf's Idea Black CB3 irons are a great example. Forged from 8620 steel the head design is specifically for golfers with the need to have a very forgiving club.
"With the CB3's we wanted to create a club with great feel and striking looks but also one that would perform well for a wide range of golfers," said Tim Reed, Vice President of Research and Development. "We accomplished this with the CB3. Its design enhancements will definitely improve performance for the better player and the aspiring golfer as well."
 CB3s after they come from the forge are triple milled to give precise perimeter weighting and an extremely thin face. Each head also receives a multi-material badge in the back cavity improving both vibration and sound. 
Adams is also pushing for individualized fittings as part of the process and retailers have a fitting kit to change lie angle, length, shaft flex and shaft. Stock shafts are the steel KBS Tour 90 and the graphite Matrix Ozik Program 8.1 though others are available. Street price for the 4-iron through gap wedge in steel is $799.99 and in graphite $999.99.