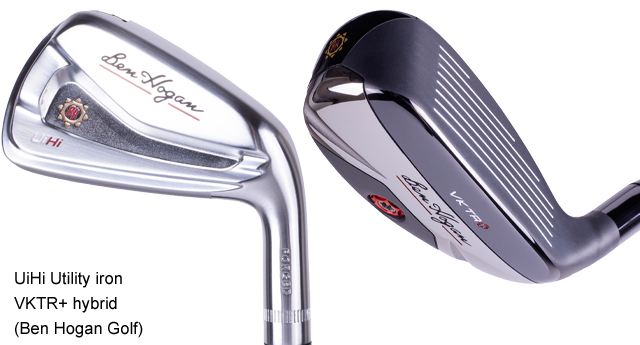 One Liner:
Long iron substitutes from Ben Hogan Golf, the UiHi Utility Irons and VKTR+ Hybrids, designed for combo sets with ICON and PTx Pro irons.
Fast Facts UiHi Utility irons:
Two-piece multi-material forged heads
1020 carbon steel frame/laser welded MS300 face
Large cavity back for perimeter weighting
Low CG with large sweet spot
3-, 4- & 5-iron lofts only
$110 each available on Ben Hogan Golf website
Fast Facts VKTR+ hybrids:
Forged 455 Miraging steel variable thickness face
17-4 stainless steel body
Iron-like high toe with wood-like bulge and roll
Rear sole weight Three lofts – 18°, 22°, 26°
$140 each available on Ben Hogan Golf website
WYNTK:
With courses reopening around the country Ben Hogan is broadening their club offering with the addition of substitute long irons for their recently introduced ICON and PTx Pro irons. Following the successful B2C business plan with Internet only sales that has revived the company finances they say their Fort Worth plant is back in production and already there have been excellent reviews of both the VKTR+ and UiHi models.
"Hitting long irons well has always been a challenge for golfers of all ability levels," said President and CEO Scott White. "That's especially true now, as many golfers around the world haven't been playing much, nor had the opportunity to practice. The UiHi utility irons and new VKTR+ hybrid clubs will make that part of the game a little less daunting for golfers returning to the courses … and in the future."
In explaining that the new models should be looked at as alternatives or substitutes for long irons plus used in combo sets made up of short and medium irons from the other two new iron models White added, "Passionate, serious golfers have been asking for a combo set option for quite a while, so we are now aligning the new ICON muscle back blades in the short irons with our popular PTx PRO in the mid irons. Better yet, with the UiHi Utility Irons and VKTR+ Hybrids, golfers can choose from a variety of equipment options at the long end of their set. With any selection, golfers will get an exceptional high-performing set of forged golf clubs that look as good as they play."