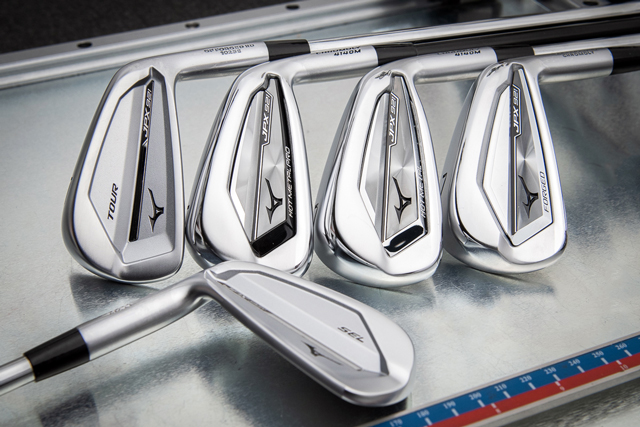 Third generation JPX irons from Mizuno Golf, the JPX921 series, consists of the JPX921 Forged, JPX921 Tour, JOX Hot Metal and Hot Metal Pro.
Fast Facts JPX921 Forged:
Forged players irons
Shorter blade length with reduced offset
Full body Chromoly 4120 with 0.5mm thinner face
Toe bias perimeter weighting
Wider CNC milled back slot
$1,399.95
Fast Facts JPX Tour:
Forged blades
1025E mild carbon steel
Shorter blade length
Toe bias weighting
$1,299.95
Fast Facts JPX921 Hot Metal:
Game improvement
Third generation design using Chromoly 4140M
Variable thickness cup face overall 0.2mm thinner
Hot Metal Pro version with smaller profile less offset
Both Hot Metal & Hot Metal Pro $999.95
WYNTK:
Brooks Koepka almost single handedly brought the attention of golfers back to Mizuno irons by using them for back to back U.S. Open wins in 2017 and 2018 then back to back wins in the PGA Championship in 2018 and 2019.
Aside from some relatively small design tweaks the big news for the JPX921 series is the use in the JPX Forged of Chromoly, a special alloy first seen used in the JPX900 and also in this year's JPX921 Hot Metal. Chromoly is a low alloy steel made with both chromium and molybdenum that is stronger than normal steel so constructing a clubhead using the same amount means the head has more strength.
"Applying the potential of Chromoly means that the JPX921 irons hold their own in any simulator test – without having to crank #7 iron lofts at all cost. Look, feel, launch, spin and landing angles have to be right through the set. Ultimately what sets Mizuno irons apart," says David Llewellyn Director of R&D for Mizuno.