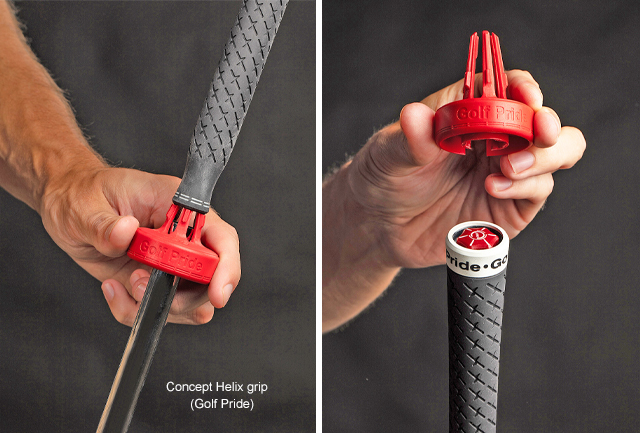 A new approach to regripping without special equipment, tape or solvent using grips with an internal friction torque mechanism that slides inside the shaft.
Fast Facts Golf Pride Concept Helix Grip:
Grip with internal friction torque mechanism
Easy installation without solvent or tape
Installation horn provided
Tour Velvet-type grip
Standard size black only
66 grams
$9.99 each minimum order 3 on GolfPride.com
WYNTK:
Regripping your clubs is a hassle even with the right shaft vise and workbench, enough solvent in one of those squeeze bottles that always seem to leak, a paint tray to catch the solvent and assuming you have remembered to buy grip tape. It often seems easier to spend the $3 or $4 dollars to have a local pro do the work so if you do the whole bag the cost adds $30 or $40 to the price of new grips.
Golf Pride wants to cut out the hassle and has a unique way to do just that developed at their Global Innovation Center in Pinehurst, N.C. with the just announced Concept Helix grip. It slips over the shaft with the help of the horn tool (provided with grip order) and the friction torque mechanism slides into the shaft. Then using the horn, the grip's end cap is twisted to expand the mechanism locking the grip in place.
You don't even have to wait for them to dry to play them.
For those who may not remember Golf Pride came up with the slip-on rubber grip in 1953 as a more convenient alternative to the traditional leather-wrap grips and currently are a major supplier of grips around the world.
A couple of points to consider. The Concept Helix are available for now in only standard size so if you need oversize or undersize grips, they are not for you. Likewise, if you use multiple tape layers under your grips and should you use grip sensors such as Arccos to track swing data Golf Pride says the two technologies at present are not compatible. The Concept Helix is about 66 grams or 16 grams heavier than a regular Tour Velvet.