Adams Golf latest offering, the IdeaCMBirons, are targeted at better players both professional and amateur. They feature a classic looking head made of multiple materials that the company says provides a high degree of forgiveness.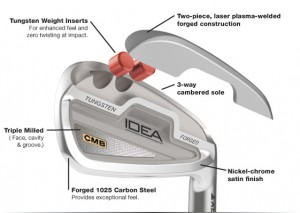 "With the CMBs we have created an iron that appeals to the best players in the world, but also has technology to make them playable for a wide range of players," said Tim Reed, vice president of research and development.  "The look and feel of theCMBirons meets the demands of tour players and low handicap amateurs, but the unique tungsten weighting in each iron makes them great for aspiring players as well."
When you first pick up aCMByou notice the nice looking nickel-chrome satin finish on the forged blade. What you will not see are tungsten plugs located in the toe to provide the proper weight distribution and the "precisely centered placement" of the head's center of gravity.
"The IdeaCMBirons are the best irons I have found for me," said Paul Haley II, No. 1 on the Nationwide Tour money list and winner of the 2012 Chile Classic.  "I had been playing a split set of Idea MB2's in the short irons and Idea Pro a12 irons in the long irons, but with theCMBirons, I am able to get an iron that looks and performs like a blade while still providing the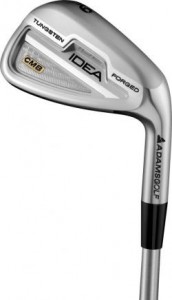 playability of a cavity back."
IdeaCMBIrons stock shafts are the KBS C-Taper (steel street $999) and the Matrix Ozik Program 8.1 (graphite street $1,099) while the grip is the Golf Pride New Decade MultiCompound White Out.