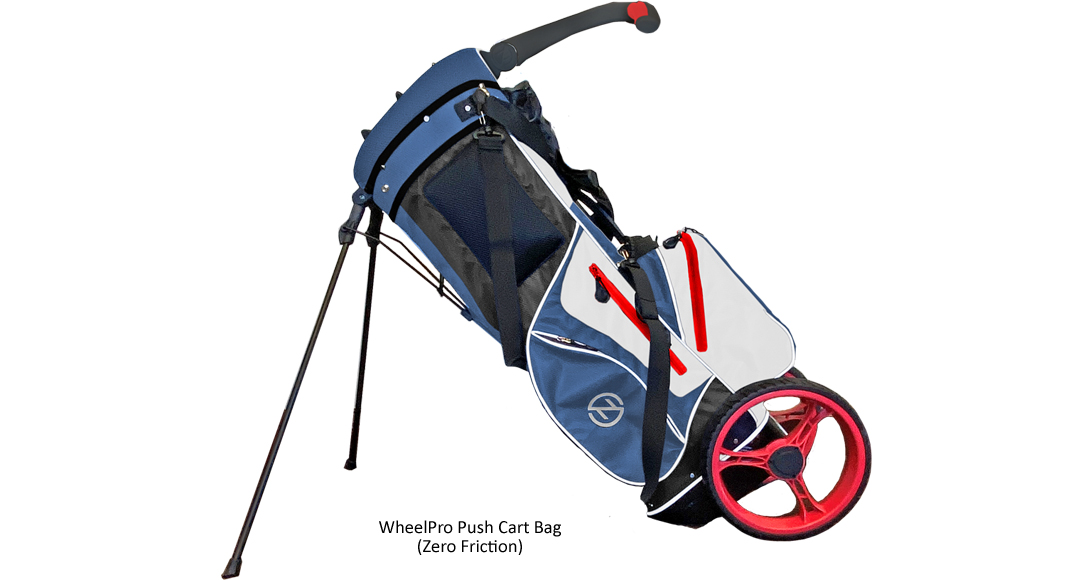 For those days when you don't want to carry you bag Zero Friction has come up with an innovative idea, the WheelPro Push Cart Bag which almost instantly changes from a carry/stand bag to a push cart.
Fast Facts Zero Friction WheelPro
Carry stand bag converts to push cart
Single strap
Six full length dividers
Seven zippered pockets: lined valuables, insulated bottle
Three color choices: black/gray, gray/black, navy/white
Umbrella holder
Bag head cover
Weight: 10 lbs.
$349.99
WYNTK
After having been around golf for a shocking number of years, finding a piece of gear that's new, unique as well as useful is fairly rare but the Zero Friction WheelPro Push Cart Bag neatly fills all those requirements. Watch this video done by John Iacono the company founder and president and I'm sure you will agree: https://player.vimeo.com/video/574633110
There are lots of bags on the market but for a large number of golfers push carts have also become standard equipment, either buying their own or renting one each time they play. Zero Friction's WheelPro doubles as a stand bag with pop out legs and with the 11-inch wheels, which slide into the axle assembly, it becomes a push cart. To remove the wheels is as simple, a single lever releases them. Simple to do as it sounds and the wheels when not in use fit into a handy storage/carry pouch.
The push handle is attached to the top of the bag and adjusts to the angle best for the user and one of the WheelPro's many nice touches is the front phone pocket which has a clear window so the phone can be read without removing it from the bag. In addition, without the wheels the bag fits on an electric or gasoline golf cart