The Nike Golf Method Core putter line has built a following among players, gaining good reviews for the aluminum face insert with polymer filled grooves. Building on that, the new Method Core Weighted putter adds fixed weights in the sole which both lowers the center of gravity and pushes it further from the face.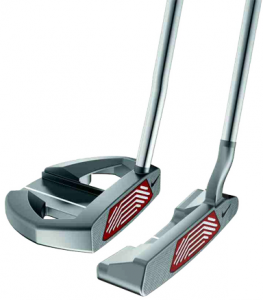 David Franklin, Nike Golf Master Modelmaker, said, "Most people don't realize that they are about 3/10 of an inch above the ground at impact. You need to keep the center of gravity of the putter as low as you can so that it never gets higher than the CG of the ball. This stops the putter from driving the ball down and creating backspin on the ball." 
"With the Method Core Weighted technology, we worked to get the center of gravity lower than the ball, enabling the putter to rise up at impact, lift the ball and turn it over quickly." 
The new putter shares the Method basic design of a milled face and polymer filler grooves.  
The five-models (4 blades and 1 mallet) of the Method Core Weighted putter ship to shops next week and will be available for $140.