Pearl ProSports' Pearl Putter is unique. In a world where adjustable metalwoods are common place the Pearl is the first adjustable lie putter.
The Pearl accomplishes this neat trick with a series of gears contained within the putter head and having the correct lie is important for good putting.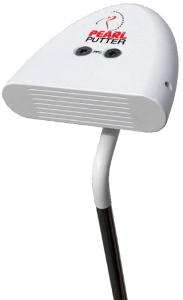 Erratic putting results are often caused if the putter is not flat on the ground at address. With the toe in the air there's a tendency to putt the ball and it's just the opposite if the heel is raised. By being able to adjust the Pearl's lie angle, players can match it to their address set up position to ensure the sole is flat on the green and the Pearl conforms to the Rules of Golf.
"It doesn't matter if a golfer is 5"2 or 6"2 or if they hold their hands high or low, the putter head must be parallel to the ground to send the ball on the correct path to the hole," says Bob Tewksbury, president of Pearl ProSports Inc. "The Pearl Putter is easily adjusted by inserting and turning a small tool in the base of the clubhead and loosening the shaft to put it in the right position for each golfer's unique set-up and stance."
Earl Pottorff, the putter's inventor says golfers are at a disadvantage if they're not playing with an adjustable putter. "The average golfer's putting accounts for 50% of their score. Despite the putter being the most used club in the bag, it's lagged in innovation. Seeing this disconnect, I decided to do something never done before and our adjustable lie putter was born."
The angled hosel of the Pearl in combination with the sightline on the putter's head is also has been designed to provide an easy to use alignment aid. Plus the center shafted CNC milled aluminum head according to the company has an optimized modulus of inertia or resistance to twisting with off center impacts.
The Pearl Putter has a SRP of $250 and is available in a variety of colors at PearlSports.com.