As anticipated the introduction of the good looking cavity back VR_S Covert driver has been followed up by Nike Golf with the VR_S cavity back irons that feature their NexCor face.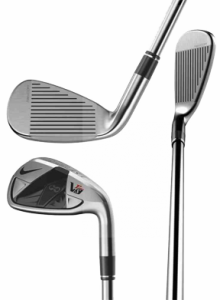 The cavity back of the VR_S irons is "covertly" hidden for a slimmer look at address and are designed for use by mid to high handicap golfers. Weight was moved to the corners of the iron head with a resulting increase in the moment of inertia to provide additional forgiveness and resistance to twisting on off center hits.
"Distance, control, and consistency are the keys to successful golf shots," said Nike Golf Director of Club Creation, Tom Stites. "We combined a High Speed Cavity Back, NexCOR technology, and a dual bevel sole to maximize distance for every club in the bag. Golfers will notice positive improvements not only on crisp shots, but on off-center shots as well."
The dual bevel sole is designed to prevent digging, to make a clean cut through the grass for more positive ball contact. The NexCOR feature, variable face thickness, according to the company delivers faster ball speed and longer shots from a wider area of the face.
The VR_S Covert family that includes Nike Cavity Back drivers, fairway woods, and hybrids and all will be in shops in February. A set of VR_S Covert irons (4-AW) with steel will have a street price of $699.99 and in graphite $799.99.