STX Golf is bringing to market their new Pitch Black series of putters at the end of January starting with the appropriately named Pitch Black 1 Putter and Pitch Black 2 Putter.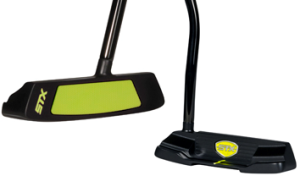 According to STX Golf Marketing Manager Jason Dengler, "As with all of STX Putters, the Pitch Black Series feature innovative designs, materials and appointments but what separates these new putters is their overall appeal. The black grip, shaft and head create a one piece appearance while the insert color and accents project from the head for unparalleled aesthetics and alignment."
Being all black initially brings attention to the Pitch Black 1 but the perimeter weighted blade (30 degrees toe hang making it part way between face balanced and toe weighted) also has a slightly raised center of gravity from the STX's Roll Pocket in the sole.
Dengler said, "The Pitch Black 2 Putter looks similar to the Pitch Black 1 Putter but they are different. The PB 1 is slightly off-centered with 30-degrees of toe hang, really suited for the golfer who have an in to out or swinging gate stroke as opposed to the PB 2, designed for a square to square."
Both have a soft face insert which STX calls "F.E.E.L." – Friction Enhancing Elastomer Layer – is said to give more friction at the point of impact to induce forward spin more quickly to help keep the ball on line by reducing the amount of skid. SRP is $149.99 for either.